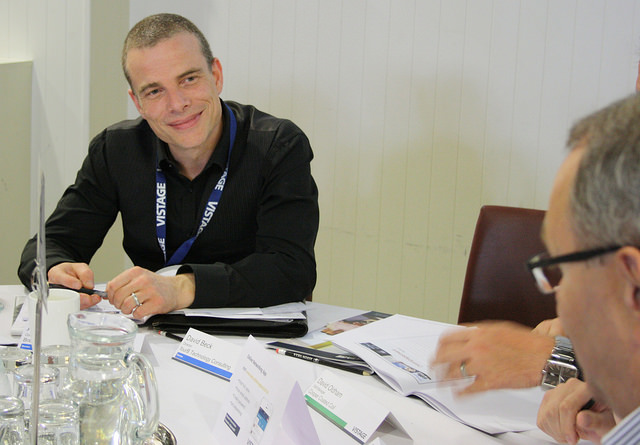 Imagine this situation. You've just been made CEO. It's everything you've been working towards throughout your career and it's a time for celebration. But, already, a few doubts are creeping in. You have some urgent questions about your new responsibilities, but nobody within your organisation to turn to for advice.

Or maybe this scenario sounds more familiar. You've been running your own company for several years now. But, for some reason, growth is stalling. You need some help, but you don't know whom to ask.

It might be a cliché, but it can be lonely at the top. Within the business you're the one everyone goes to with their questions. You've got the experience and learnt from a few bloody noses on the way. But what happens when you need support?
Who do you turn to?

Seth Godin has said that ' finding a peer group and working with them, intentionally and on a regular schedule, might be the single biggest boost your career can experience'. [Source: Seth Godin]. So why is this the case?
Here are 4 of the key benefits that joining a peer group has for business leaders.
None of us know absolutely everything

No matter how experienced we are there will always be things that other people can do better. Building your connections with people who are business equals and being able to learn from them in their area of expertise means you can plug the gaps in your knowledge and also share your own expertise in a true value exchange.


A peer group will hold you to account on your plans

How often do you find that your best-laid plans have to be set aside because something has come up? Often with your long-term business goals, you are not directly accountable to someone on a day-to-day basis.

- This means when the pressure is on, they can be the first things to slide.

But, with a peer group supporting (and checking up on you), you'll have people who expect you to keep to your word. You'll have to be accountable for your actions. In other words, the peer group structure means being made to go through with what you promised you'd do.


Overcoming the isolation that can come from being at the top

When the business is looking to you for the answer, who is there to answer your questions? It can be an isolating experience being a leader. There isn't necessarily the team around you that you can turn to with your problems and challenges.

So having a place to go, where you can discuss all of them freely, is a liberating experience. It means you can get the support you need, professionally and personally, so you can support your business moving forward.


It's a confidential space to discuss problems and concerns

The strength of peer groups comes from complete and total confidentiality. Nothing said in confidence gets shared outside of the group. Typically, in a peer group, other members will be people from non-competing companies. It means that everyone can be comfortable letting down their barriers because there isn't a risk of any conflict of interest between peer group members. They are free to give impartial advice and support.

This diversity also means you'll find people who have had very different experiences, with different approaches to solving problems. As a result, it means they are much more likely to find your 'blind-spots' because they come at situations from a different angle to you.
Working at Vistage has given me the opportunity to see these benefits working first-hand, I've spoken with many business owners who needed a fresh, sounding-board to help them to clarify their decisions and once they joined they were able to move their businesses forward in a more strategic and productive way.
Peer groups are powerful things, but you get what you put in. As you work together you and your group develop a range of options and solutions that can only come from working with a team of business professionals that are committed to working toward one another's success. It's a beautiful thing.
At Vistage we help thousands of business leaders to combine the power of peer advisory groups with focused 1-2-1 executive coaching and continue the momentum with events and online resources, where you gain valuable insights from world-class, expert speakers.
This is not your standard industry group, there's a thoughtful energy in a Vistage meeting that's hard to describe. But, once you've experienced it, it's impossible to forget.
More from Vistage: