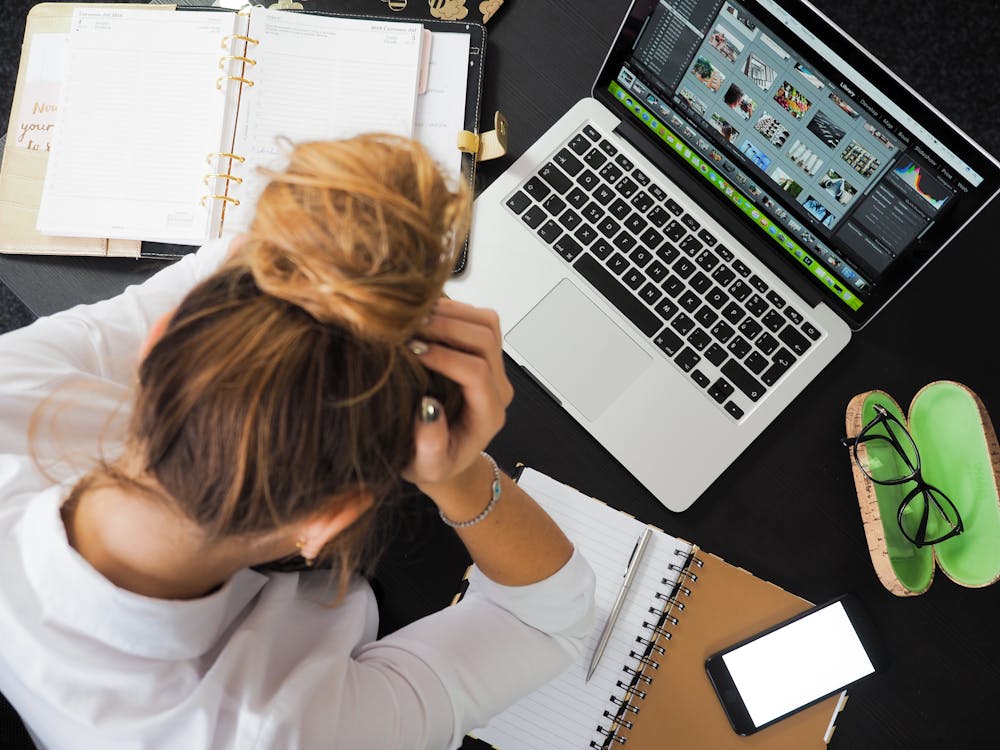 Excessive administration burden is one of the biggest challenges facing small businesses in the UK today. A recent survey of British SMEs by Sage revealed that small companies spend an average of 71 days and £35,600 on admin tasks per year. The accounting software firm's Sweating the Small Stuff report estimated that 5.6% of all working time is lost to administration, with a total implied loss of productivity of £39.9 billion in the wider economy.
With up to 40% of British SMEs stating that they find it difficult to reduce time and money spent on administrative tasks, it's clear that many business owners would benefit from guidance on how to tackle their admin workload more efficiently. Sage's Scott McLay has shared five tips to help get your admin burden under control.

1. Split the admin load
Broadly speaking, administrative tasks can be broken down into two types: operational and regulatory. Operational tasks are those which are fundamental to the smooth and successful running of a business, like managing incoming and outgoing payments or recruitment.
Regulatory admin, meanwhile, involves mandatory tasks required by government - like filing company tax returns. These tasks don't necessarily contribute to the success or otherwise of a business.
Many small businesses in the UK struggle with their regulatory obligations. The Government's Small Business Survey in 2016 revealed that small businesses incur regulatory costs which are more than three times higher per employee than for medium firms and more than five times higher than for large firms.
While understanding the difference between operational and regulatory tasks won't in itself help you to lower your admin cost, it's a useful framework for managing and prioritising your admin load. It can also help your business avoid incurring further costs in the shape of fines and penalties for incorrectly fulfilling regulatory tasks or missing key deadlines.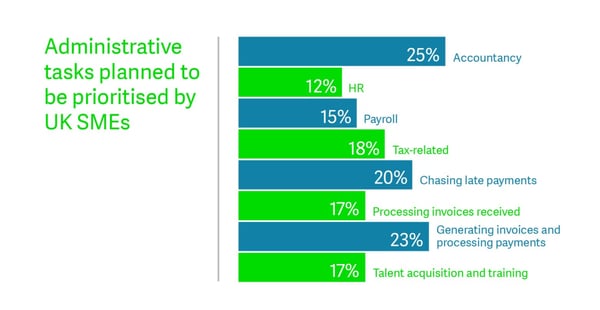 2. Prioritise
Prioritisation is key when it comes to reducing your business's admin burden. Identifying the most important tasks, their deadlines and being aware of any dependencies between them can help you get through your workload more efficiently. You'll also need to understand how much time you or your staff have available to spend on admin so that you can allocate resource accordingly.
The key to successful prioritisation is being able to distinguish between tasks that are important and unimportant as well as urgent and non-urgent tasks. Important tasks are those that have a tangible impact on the success of your business, while urgent ones are those with a firm - and impending - deadline, with consequences if that deadline is missed.
Ideally you should plan far enough in advance so your important tasks never become truly urgent, like filing your business accounts with Companies House well in advance of the deadline. However, occasionally something will unexpectedly become urgent and need to be dealt with immediately, like a client missing a payment by the due date on their invoice, or recruiting to replace an important staff member who has decided to leave.
It's critical that you don't allow your time to be swallowed up by tasks that are neither important nor urgent. Many tasks, from refreshing your business's branding to overhauling your filing system, are valuable at a certain stage of a business's lifecycle but are unlikely to have a significant impact on how your company operates and performs in the short to medium term. Rather than getting sucked into a potential timesink, mark these type of tasks as "nice to have" and address them at a later date.
3. Outsource
The core principle behind outsourcing is simple. Take a task that you don't want, or don't have time to do, and pay somebody else to do it. It's a great way to offload some of your admin burden and often to have the work carried out by a specialist more efficiently than if it was handled in-house. While it's rarely quite as simple or straightforward as that, outsourcing is nevertheless one of the best ways to free up admin time so that it can be spent elsewhere.
First of all, identify what business functions you want to outsource. Financial tasks, like accounting and payroll, and IT are the areas perhaps most commonly passed on to external service providers but almost any area of your business, from HR to marketing, can be outsourced.
Secondly, start to identify potential contractors, service providers or agencies to take on the admin work you'd like to outsource. Finding a provider that fits your needs in terms of the scope of the work, your available budget and any specific requirements you have around visibility and reporting or the way the work is handled is critical so don't rush into it. Take the time to identify a number of suitable candidates through peer recommendations and your own research and look for reviews and references from previous and current clients.
Finally, remember that you'll have to do a certain amount of work in preparation for handing admin tasks over to third parties. You'll need to make sure that information is up to date and in an easily shareable format. You may also need to take the time to talk a contractor through your current setup and way of doing things so they can deliver work in the format and style that you want.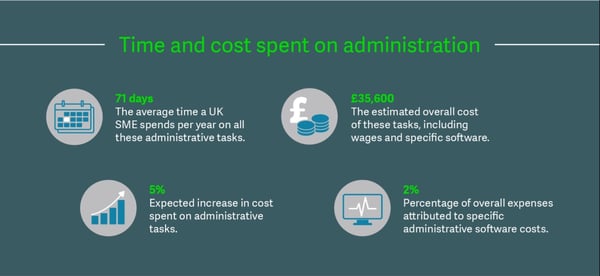 4. Digitisation
On the surface, taking advantage of digital tools to streamline your workflow might seem like an obvious way to reduce your business's admin burden. However more than half of UK SMEs still handle administrative tasks manually rather than using software to ease the burden on their staff. Of these companies, 59% cited concerns about the cost of implementation as the main reason for not digitising admin.
The perception that admin software is expensive is not borne out by the data, however. UK businesses spend only 3.5% of their total admin expenditure on software - not a lot considering the potential time and resource savings it enables.
Furthermore, you don't actually need to spend large sums of money to start digitising your admin. Introducing basic cloud computing software like Google Drive or Dropbox is a great first step towards making your business more efficient through document and information sharing. Both of these services are available through a low cost monthly subscription that can scale as your business grows. And if you already pay for Microsoft Office software, you may already have access to the company's Office 365 cloud suite at no additional charge.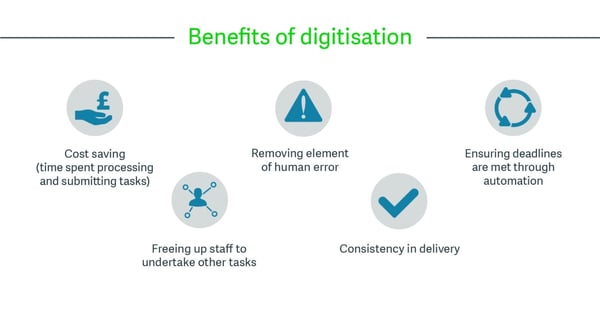 5. Integrate your admin
Of course, there's also a wide range of specialised admin software that can take digitisation to the next level. Many core admin functions can be transformed and streamlined with the right tools, from HR suites to cloud accounting software. More importantly though, many of these software packages are able to share information with each other in the cloud, potentially removing many hours of tedious manual data entry and cross-checking.
This type of integration between admin software opens up numerous possibilities. In the case of accounting software, cloud solutions can tie together different functions and seamlessly automate many aspects of your financial process. You can sync your accounting software with your payments solution, so that customer payments instantly appear in your accounts rather than needing to be input manually. You can also use the software to create and send invoices and manage and submit VAT, significantly reducing the burden on you and your staff.
Cloud computing and the use of APIs has opened up even more possibilities for this type of integration, allowing software and apps from different providers to communicate with each other and share information. This means that you don't need to tie yourself to a single software provider and can pick and choose between compatible solutions that best fit your business's requirements and budget.
Beating the admin burden
While dealing with your business's administrative burden can be onerous, it's by no means an insurmountable challenge. A few small changes in how you think about and tackle admin can make big differences to your productivity and efficiency, leaving you more time and energy to focus on improving and growing your business.
More from Vistage: