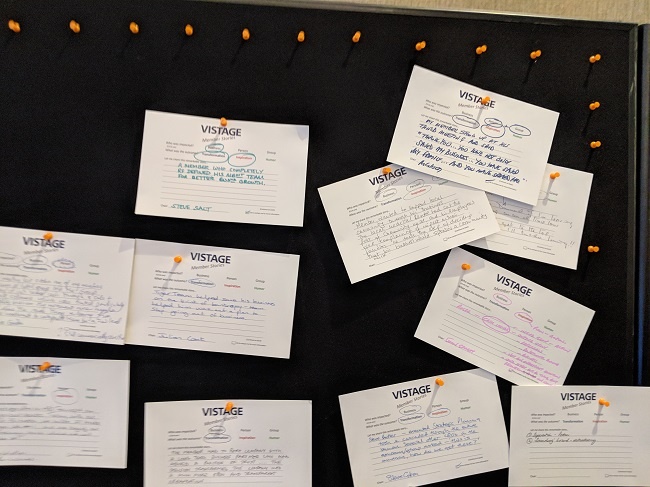 On the 4th and 5th June (2018), the Vistage National Chair Workshop at Hilton Ageas Bowl, Southampton, was an opportunity for our UK chairs to come together, network and share experiences and knowledge - and, of course, to have some fun.
One of the key principles of the Vistage ethos is collaboration: when we share, we learn. So as part of the event, we asked our chairs to share their favourite success stories by writing them down. Ranging from humorous to poignant to truly inspirational, these stories were then pinned around the room for people to read and absorb in their own time. Here are some of our favourites (with names removed to maintain anonymity, of course.)
Courage
A cornerstone of the Vistage ethos, courage is a vital element of strong leadership. By cultivating courage, leaders are able to make difficult decisions and do what's right, despite their challenges. As these stories illustrate, when we act courageously, we achieve things we never thought were possible.
'A member shared his frustration with the lack of progress and support from his co-shareholder/family members. The next day he resigned as CEO and created a 'back me or sack me' moment. Of course, he got the backing and unlocked the stalemate.'
Business Growth
While we tend to think of our personal and professional lives as being separate, the two are inextricably entwined. That's why personal development and growth are so important in business: when you grow as a person, the positive impact is felt in all aspects of your life.
'My member stood up at his third meeting and said "Thank you… You have not only saved my business, you have saved my family...and you have saved me".'
'A member nervous about presenting has gained confidence from the group and is now regularly presenting at company and industry conferences.'
'X joined when both he and the business were in a rut. In three years he's gone on a hell of a journey: new businesses, better relationships with his brothers and more quality time.'
'A member quotes Vistage as the reason for her promotion to CEO - and the promotion of two members of her leadership team to the board.'
'One of my members became so stressed that he wanted to sell his business. After sharing this with the group they supported him through the change he needed to make, and after three months he feels re-energised and ready to take his business to the next level.'
Personal Growth
While business growth is undoubtedly an important part of the Vistage process, perhaps the bigger thing is personal growth. The private life of a business leader is indelibly linked to the success of the business. We promote balance, and it was encouraging to see so many great stories of personal growth in amongst the business stories.
'A member who weighed 18 stone and has a history of family heart disease lost weight and secured a place in the 2019 London Marathon.'
'I challenged a member to get their wider family relationships sorted, it was having a dramatic impact on their mental state and, of course, the business. I didn't allow any pushback. The member and family have since been working well for over a decade.'
'One of my members had his life and wellbeing completely transformed by a speaker, Celynn Morin. He has transformed his diet, taken a new approach to exercise, is sleeping better and has more energy for his job and family.'
'A member had to part company with a business partner who had abused a position of trust. The decision transformed the company into a much more transparent and open organisation.'
'A member said, "I've only been to two meetings and I know that even if I didn't attend again, it's changed my life". He has started to appoint people into a new organisational structure, be a better human at home and a better leader.'
Leadership
Encompassing all five principles of the Vistage ethos, great leadership has the power to engage people, boost productivity and promote a positive culture in the workplace. When leaders make difficult, strategic or inspirational decisions, the effects can be awe-inspiring.
'Met a member on Thursday who told me that membership of Vistage had transformed her as a leader, helped triple her business' revenue and was fundamental to the achievement of her life goals.'
'A lot of conversation around a senior person helped a member resolve the issue by repositioning the individual who is now a really valued member of the team.'
'X executed strategic planning tools which cascaded through the entire business. Several other CEOS in the company/group asked, "this is amazing, how do we get there?"'
'A member wanted to support the local community through his business. The local medical centre had cut the post of community nurse and his employees were complaining about the impact on their families. He took the step of deciding that his business would sponsor a community nurse.'
These powerful stories are just a small selection of the many moving and inspiring stories that Vistage members experience and facilitate every day. By sharing them, Vistage chairs and members can see and hear the true value of working together as a collective: real, life-altering change.