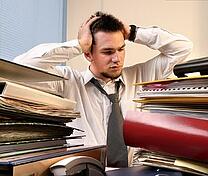 A new survey has found that three-quarters of employees are working an additional ten hours without receiving any extra pay, onrec.com reports.
Research carried out by hotel chain Travelodge found that the average employee still believes that presenteeism is key for getting ahead and willingly works additional hours in order to please the boss - as well as manage their workload.
Seventy-two per cent work ten extra hours every week, equating to £6,635 in free productivity for each employer, apparently. One third of respondents said that they worked around 16 hours more per week than they did before the recession, while one in ten puts in a whole extra week's worth of free hours.
While any company which is navigating through uncertainty might have had to ask its workforce to 'go the extra mile', it's worth bearing employee well-being in mind; an unhealthy work-life balance can lead to stress and absence, not to mention low morale. Therefore, bosses should encourage their workers to switch off and get some rest at home.
It's crucial that a culture change is embedded, given that 55 per cent of respondents said they had missed a family celebration due to work commitments during the last year. Ten per cent of male workers confessed that they even missed the birth of their child because they were working. A third of women admitted to logging on at the weekends.
The busiest workers were identified, unsurprisingly, in London, hrreview.co.uk writes. Here, the average worker put in 12 additional hours per week, followed by Liverpool and Birmingham at 11.5 and 10 hours respectively.