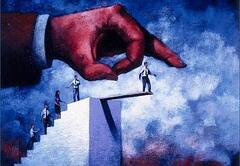 The deficit of management leadership skills needs improving, according to hrmagazine.co.uk. The UK is falling behind other countries like Germany, Japan and the USA, contributing to a productivity gap.
Figures from the Department for Business, Innovation and Skills (BIS) found that almost three quarters of organisations had reported a deficit of leadership skills.
Leadership development needs to be a key priority for businesses, writes Graham Scrivener for hrmagazine.co.uk. Research from the Chartered Institute of Personnel and Development (CIPD) showed 85 per cent of respondents felt there was a lack of people skills among leaders.
Telegraph.co.uk reports strategic thinking is the most important leadership skill to possess. Bringing the customer into the boardroom is high up the agenda for leaders to ensure their success.
Chairman of various organisations, Sir Paul Judge said: "[Leaders] must understand and foster positive engagement with employees, customers, suppliers, financiers, government and local communities, as if these are not supportive then it is very unlikely that the key objectives will be achieved."
With first-line leaders directly supervising as much as 80 per cent of the workforce and consisting of anything up to 60 per cent of the management team in a company, the development of their leadership skills may be essential to the success of businesses.