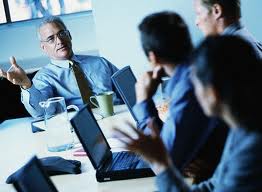 Male domination is the biggest barrier for women trying to make it to the top, according to realbusiness.co.uk. Corporate culture is heavily influenced by men, causing issues for women.
Research from Harvey Nash found that around 25 per cent of 600 CEOs, directors and senior executives felt that a male-dominated culture is preventing women from reaching the boardroom more than anything else. Many of them also felt that these cultures were cutting the amount of time that women are happy to spend with their employer working on their career.
Director of Harvey Nash, Carol Rosati, said: "Organisations are failing to recognise that in today's world, employees of all genders want different ways of working. Often, the bias that creates this male-dominated culture is unintentional and unconscious."
Senior managers may only be praising employees that they have immediate access to, potentially leaving women in the dark. Leadership development skills may help to combat this, re-addressing the gender gap.
Huffingtonpost.co.uk reports that women are suffering the most from unemployment, with figures at a 25-year high. The figure for males is actually dropping, with research from The Fawcett Society implying that the labour market is 'female unfriendly'.
Minister for women and equalities, Maria Miller, said that the workplace needed to be updated to give women the opportunity to reach their full potential.