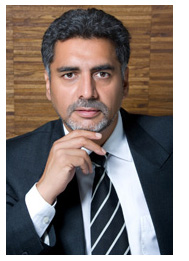 Financial incentives will only work so far in motivating staff, says successful businessman and ex-'Dragon', James Caan.
In a blog posted to his linkedin.com profile, the entrepreneur emphasises the importance of motivating staff but concedes it's not easy, thus he has shared his approach to incentivising his people.
Something that should really be covered in any leadership coaching sessions is that employees are motivated to satisfy five basic needs which the psychologist, Maslow defines as security, self-esteem, psychological, society and self-fulfilment. While pay increases and bonuses can meet security demands, this is a short term satisfaction.
Effectively, Maslow saw that a deficiency lies in esteem and a sense of 'belongingness', according to trainingjournal.com - areas that Caan targets.
He says that it is crucial to get to know the team to understand what motivates them and to encourage an emotional, rather than purely transactional, involvement with the business: "in the long-term, the best way forward is always to forge team spirit and a feeling of camaraderie".
Caan asserts that it is management's job to know everything about their team in order to provide the tools that will meet their needs, be it training, progression, a comfortable working environment, autonomy or fun. This is also essential in attracting and retaining top talent, he adds.
Lastly, Caan reminds managers that the most important action is to simply thank, praise and recognise people for a job well done.
"Deep down, people are all the same and everyone wants to be liked and appreciated. A little bit of praise at the right time can make a very big difference in terms of performance."