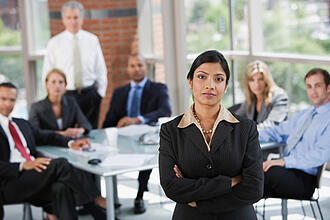 The number of women being appointed roles on the boards of companies isn't up to standard, according to the latest results from the Cranfield Female FTSE board study.
A government-commissioned target of 25 per cent by 201 is a long way off, if the latest results are anything to go by. Thisismoney.co.uk reports that the percentage of women on boards of directors is just 17.3 per cent, with the numbers of board jobs going to women dropping over the past six months.
For the first six months from March 2012, 44 per cent of jobs were awarded to women in FTSE 100 companies. The following six months saw a drop down to just 26 per cent.
One of the co-authors of the report, Professor Susan Vinnicombe said: "Despite women dominating the fields of human resources, law and marketing, this is not reflected at executive director level, where the positions are still going to men, who are being promoted internally over experienced female candidates."
The leadership development strategy to get more women into boardrooms has shown itself to be working, but the level is much slower than expected. According to huffingonpost.co.uk, Maria Miller, the Minister for Women and Equalities pointed out that momentum needed to be maintained across the whole economy to ensure women are properly represented in business.