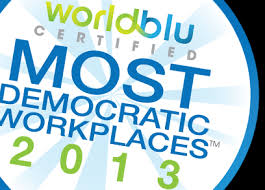 A record number of British businesses have been recognised in this year's WorldBlu 'Democratic Workplaces' listings.
Twelve out of 51 companies that were named in the list were UK firms from a variety of industries, such as manufacturing, retail, healthcare and technology. The list aims to recognise companies that provide innovative ways of working within a successfully democratic culture.
Companies to feature included internet infrastructure firm Dyn, who featured in the list for the second year running, according to prweb.com. The company, which hires over 200 employees, runs offices in two continents, including the UK.
Results were based on questionnaires in which workers rated their employers from 1-5, with a score of 3.5 making the grade. It was also based on WorldBlu's ten principles for organisational democracy, which are: purpose and vision, transparency, accountability, individual and collective choice and integrity, decentralisation, evaluation, reflection and dialogue.
Talking about the list, Traci Fenton, founder and CEO of WorldBlu told hrmagazine.co.uk: "More freedom and democracy rather than fear and control translates to the bottom-line performance of an organisation by reducing costs, voluntary turnover and absenteeism."
Businesses who are aiming to improve their own company values may want to make a note of Ms Fenton's words and possibly incorporate the subject of democracy into their leadership training courses, to ensure staff morale remains positive.
Miranda Ash, chief community evangelist at WorldBlu added: "Democracy contributes to higher levels of innovation, engagement, trust and efficiency across an organisation."
She also referred to WorldBlu-certified democratic company DaVita, which was near bankruptcy in 1999, however today is worth $12 billion.