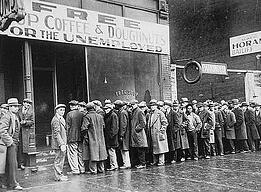 The number of people unemployed in the UK has risen for the first time in a year, according to independent.co.uk.
The total figure rose by 7,000 to 2.52 million, statistics from the Office for National Statistics (ONS) have shown.
These figures are lower than they were a year ago but this recent rise is thought to have been caused by more 18 to 24-year-olds becoming unemployed. The amount of unemployed women rose by 5,000.
Bbc.co.uk reports youth unemployment stands at 21.2 per cent, with 993,000 people aged 16 to 24 currently without a job. This may cause a rise in the amount of people setting up a family business as a means of giving their children employment and helping them onto the career ladder.
The government said the figures showed a 700,000 increase in the number of people working in the private sector in the past year and more people are working in this sector now than any time since records began. Employment in private businesses now stands at 24 million, marking a rise of 151,000.
Employment minister, Mark Hoban said: "It's a credit to businesses that the private sector is employing one and a quarter million more people than when this government took office, helping us compete in the global race."