Imagine that everyone in your organisation has been summoned for the town hall meeting. The CEO walks onto the stage. The music starts to play, and he turns to the audience.
"Ladies and gentlemen," they say. "I've invited you here today for the launch of our new digital strategy. It is a strategy that will be good for you, for our customers, and for our stakeholders."

"I can't make it happen alone. I need each and every one of you to come together - not just as a team or a department, but as a family. Because only as a family can we make our strategy come alive. Are you with me?"

The CEO walks off the stage, satisfied from audience reactions that the entire organisation is on board. As they leave, two guys at the back of the room look at each other, one asking, "What was all that about?" "I don't know," replies the other, "but there's a free lunch here, so let's go and grab something to eat."

Robin Speculand is a global pioneer and specialist in strategy and digital implementation. He is also Chief Executive of Singapore's Bridges Business Consultancy Int and Co-founder of the Strategy Implementation Institute.

"The challenge we have is that more digital implementations fail than succeed," he says. "organisations are now focusing on digital, because of the current climate they require an omnipresence solution for customers. However, it's scary just how many organisations are focusing on digital, but are failing."

Watch Robin's full webinar here.
Why most digital implementations fail
In 2000, Robin and his team began to research how well businesses were implementing their digital strategy. They published their first research in 2002, finding that 90% of businesses were failing to do so.

Every four years Bridges (one of Robin's three companies) measures how businesses in this area performed and there is a steady improvement. These improvements were consistent with data published by sources such as The Economist and McKinsey.

But in 2020, the team found that 67% of businesses were failing to make digital work yet again.
Why companies fail at digital
Digital changes everything
Most strategies used to only change part of a business. In digital transformation to succeed it requires whole business model change. .

"It's not about tweaking or changing a few processes", says Robin. "It's not about just automating or introducing chatbots, or RPA (robotic process automation). It's about transforming your entire business model - and this is tremendously difficult."
Senior leader mindset
"Leaders need to be open not only to running the business differently", he says, "but also to learning."

Today's established leaders finished their business degrees long before the introduction of SQL, Python, coding, machine learning, AI, or data analytics. Bringing these and other digital changes into the business requires them to go back to school.
Culture
Digital transformation requires a very different way of working.

"You go from working in cubicles to Agile and Scrums and sometimes sitting on the floor in open spaces. You go from two-hour meetings to 20-minute stand-up, from creating PowerPoint presentations to asking for permission, to creating prototypes to test and eliminate customer pain points," Robin explains.

This shift is increased by the challenges of hybrid or remote working too.
The Ticking Clock(c) model
Robin's Ticking Clock Model visualises the digital transformation journey, helping businesses become digitally driven.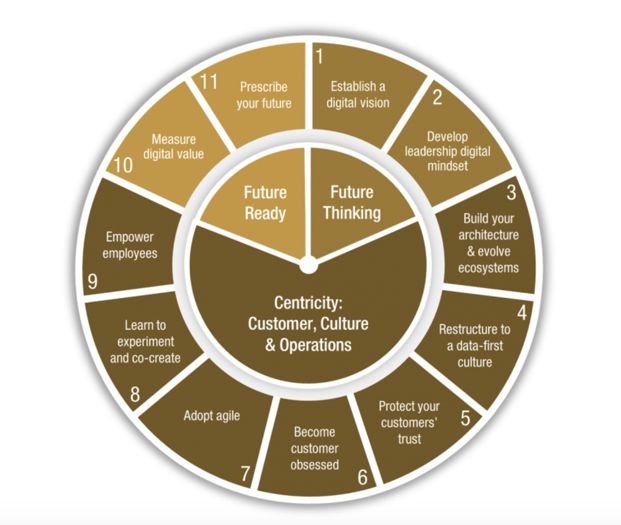 The inner circle of the model is divided into three strategic stages:


Future Thinking: What does digital mean to your business? What do your customers want? How do you translate that into the business? Where is the value add? How do you differentiate from the competition?
Centricity: Customer, Culture & Operations: What does building centricity around your operations, customer and culture mean to the way you operate? How can you make it easier for customers to do business with you and eliminate pain points? What needs to change within your business culture?
Future Ready: In the world in general - as well as in your industry and your own business - things will often change rapidly. Can you be sure that you will never settle, but will continue to challenge yourself?

The outer circle demonstrates the 11 operational steps that you will need to take to deliver digital transformation. "There are only 11 numbers on this clock", says Robin, "because if you wait for the 12th step, it'll be too late - you'll likely be one of those 67% of businesses that fail".



Future thinking
Step 1: Establish a digital vision
In 2014, for example, DBS Bank decided that their vision would be to make banking joyful.

The leaders recognised that most people considered banking painful and that there was an opportunity to make banking joyful by leveraging new technologies to make banking invisible. Instead of going through the rigmarole of visiting a banking branch in-person, customers could do everything they needed via an app. This is commonplace today, but won DBS a 'world's best bank' award in 2018.

"Your digital vision needs to drive and unite your people, and move them forward," Robin says.
Step 2: Developing a leadership mindset
"If you're still bureaucratic, still running from one overrunning meeting to another, still working in cubicles, still a siloed organisation, you're going to fail", says Robin. Leading a digital company is different from leading a traditional company. What do you need to change internally?

For example, leaders used to be the first to speak in meetings. Now they should be the last and listen to what their employees are doing in hackathons and design thinking and other digital activities.
Step 3: Building core technology platform
"This is likely to involve a heavy initial investment, so board support is crucial", says Robin. He estimates this stage will likely take a minimum 18 months to two years to complete. To succeed, you must understand:


Where re-architecture is needed
How legacy systems can be leveraged and improved
How the organisation can move from product to platforms
How to move from data centres to multi cloud
How Agile and DevOps can be adopted business-wide
How ecosystems can be developed to offer greater customer value
Step 4: Restructure to a data-first culture
This is not optional. "Data is the new air we breathe - the better the data, the better the decisions", emphasis Robin. Legacy data must be cleaned up. Governance must be developed around data usage and access. "This takes a minimum of three years for a large organisation,'' he says.
Step 5: Protect your customers' trust
In 2019, Alibaba revealed that it faced 300 million hacking attempts per day.

Major organisations, such as British Airways and the NHS, as well as smaller businesses, are also regularly targeted. "You're going to be hacked. It's not a question of "if" but "when"", says Robin. "Your customer trust is a strategy from day one. You need to make sure you're secure, with the right protocols and protection".
Step 6: Becoming customer-obsessed
Robin explains that we are finally becoming truly customer obsessed. At the core of this change is the pivotal change of organisations moving from asking "What works best for us" to "What works best for our customers".

Tools and techniques like customer journey mapping support this transition and provide numerous benefits:


Mapping the customer journey
Capturing customer emotions and feelings
Identifying pain points
Identifying the "job to be done"
Developing digital solutions to customer needs
Step 7: Adopting agile
An agile company works faster and with minimum bureaucracy. It encourages departments to collaborate and leaders let go of the reins. It reduces the need for signatures of approval, cuts meeting numbers, empowers staff. "In DBS they create open spaces that actually encourage people to come together and collaborate", says Robin. The bank recognises that the working environment impacts people's behaviour.
Step 8: Learning to experiment and co-create
Experimenting is essential to successful innovation. Often, this may mean failing before you succeed.

"You need to create a culture of what Amy Anderson from Harvard calls 'psychological safety'", says Robin. "This is a culture where people feel safe to state that they tried, but it didn't work - and where you can learn from the experience".

The motto in many companies today is "Learn fast, learn forward". Experiment, but if it's not working stop and apply the learning to the next experiments.

At DBS Bank, the number of experiments reached around 1,000 in 2015. After this, they stopped counting. "It wasn't the number of experiments they wanted to measure, it was the impact on the customer", he says.
Making major changes to the way a business operates can be daunting. Join Vistage for advice and learnings from those who have done so already.
Step 9: Empowering your employees

A two-day hackathon, for example, can result in much excitement about creating a digital solution for your customers. However, if employees then need to run around the company seeking approvals and budgets the excitement quickly dissipates.

"After the hackathon, you have to create a PowerPoint to ask permission, you have to approach six different leaders of six different departments to sign off, you have to get budget approval from finance".

After identifying a new opportunity employees need to have the supporting ecosystem, such as incubators, to implement the opportunity.

Step 10: Measuring digital value



Measuring digital value is different from value metrics you may have used before.

"DBS was the first bank to show the value of digital customers on their P&L to analysts", explains Robin. "They measured how many customers moved from traditional to digital solutions. However, they also measured how much more business they did, and how much paper they saved".

These measurements demonstrated in DBS that digital customers bring in double the income of traditional customers. Acquiring customers who are less expensive to serve and more likely to do more business with you is a win-win. The new measures must be used to track progress, and take corrective action.
Step 11: Prescribe your future



Predictive analytics can make this happen. Strategy is no longer just theoretical, but can be tested.

"We've got even better at predicting what customers will want tomorrow", says Robin. "You have to keep on transforming, which is why our model is a circular clock".

The synergy of digital and business strategies
Done right, your digital strategy will not take focus away from the overall business strategy. Instead, it complements it - even becomes it. "It's not about having a digital strategy, but about having a strategy in a digital world., This is because the winds of change blow faster externally than they do internally and organizations struggle to transform to keep pace." says Robin.

"So, part of your overall strategy is identifying how you will leverage digitalisation - the two can't be separated".

For some businesses, digital is now the norm. For others, the clock is ticking - and the Ticking Clock can help.

Many thanks to Robin for his insights. For support in your own digital journey, from those who have been there already, why not join your local Vistage group?

Image: Adobestock By greenbutterfly