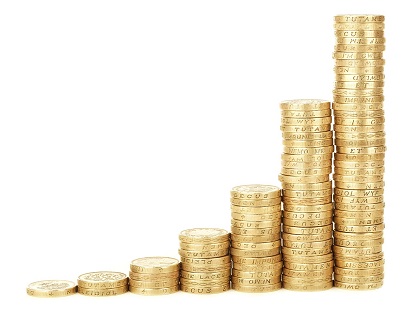 Finance and funding growth can be a time consuming and frustrating process. The problem is that the timing of your need for funding and cash can be out of sync with your growth plans.

In fact the process of seeking-out and securing funding can also be a source of disaster for your company.

Typically problems occur because you spend too much time pitching and talking to investors that you actually limit and start to restrict the performance of the business.
It also takes time if you're talking to banks.

If you're looking to fund growth, you might want to take a step back from the obvious options of investment from external sources.
Vistage Speaker and partner at fds Corporate Finance, Jo Haigh, offers a simple starting point before going to external equity. She says: "Draw a circle on a piece of paper, and we mark it out like a pie. What can we get from where, before we get to equity?"

Map out the available funding you can get, for example, from overdrafts, loans, mezzanine finance, asset finance, sale and lease back of goods, grants, vendor finance, or if you're doing a transaction, the enterprise loan guarantee scheme.

Fill in the pie will all the other sources and if there is still a piece left you can't fill, then think about filling it with equity.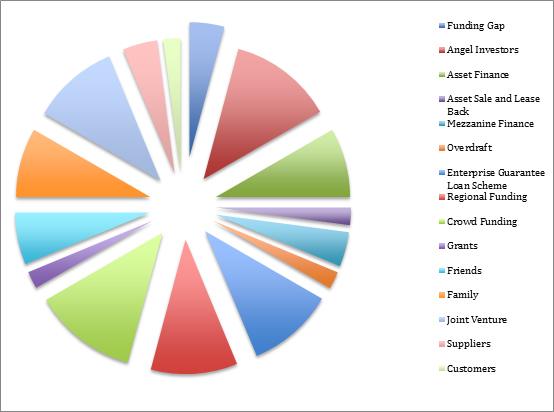 You still have several places to go to, depending on the size of your deal. Try local, national or regional funders if the deal is big enough or Angels. Angel funding can be people you know, can be people in business, and can even be funding from suppliers or customers – they can be interested in investing in you even though they have a business relationship with you.

The other thing is don't forget friends and family. It's not always a good thing doing business with friends and family, but sometimes, for smaller amounts, they may be able to help. As long as you've got a red-hot shareholders agreement, and you treat their money just as you would treat anybody else's money, you might find that it is slightly more forgiving.

You could also try a joint venture with a vertical or horizontal integration. Yes it's true there might not be equal share holding in a joint venture but it might just provide the acceleration that you need to grow your business.

Be careful not to underestimate the funding that you need

People not only underestimate the amount of money they need, they also underestimate how much it is going to cost them to get it, and how long it will take them to get it. So the advice is, do best- and worst-case scenarios.

For example, if you are doing a transaction like buying another business. It's easy to think the synergies of the two businesses will come together within a couple of months. Usually, it is at least a year before you get the full impact of synergies.
Whatever number you come up with, Jo Haigh suggests as rule-of-thumb, that you take the worse-case scenario and add an extra 10%, because she says: "It's much better to ask for more, than it is to have to go back and say, 'Oh', we didn't quite get enough".

"There are things called 'revolving credit lines', where you can say, for example, 'we're in a very seasonal business, so we won't need all this now, but we will need it later.' Better to ask for it at the start and be clear, because they won't want to know later on."

But a word to the wise; only ask for more debt if you can afford it. Today if you take bank funding, they may agree a £250,000 loan, but if you only draw down £200,000, you can still be charged the interest on the full £250,000.

Advice and tips on managing funding throughout a growth period

Plan ahead, keep planning, keep thinking about the different alternatives outcomes and be utterly vigilant. Keep your eyes and ears open for alternative types of funding. Sometimes the funding that works at the beginning of the journey might not work as you work your way through the journey.

When you start achieving significant growth others like suppliers and customers are going to be watching you and there might be opportunities for swapping over to a more trade-based funding stream; extended credit or someone paying you advanced payments or maybe even if joint ventures that weren't there on day one and you now need to think about.

That said though, if you're starting on a growth journey that is three to five years and you choose the equity route, you probably want to think about building one relationship for the whole way – someone or a group who is bought into the fact that they're there for the ongoing phases of funding.

This can be particularly true when it's an equity play because the people who have invested in the first year, they're going to get diluted in the second year, and they might get diluted again in the third year. If they don't know that's coming, you're going to have a fight on your hands.

Finally, a lot of entrepreneurs are really good at getting interest in their business and then kick themselves when they can't actually get the deal over the line or they get the deal over the line and then it doesn't stick throughout the duration.

The missing ingredient can be investor confidence, whether it's debt or its equity.
After you've got someone's money you need to keep telling them that you're going to look after their money. So to get a deal across the line, you've got to show them how you're going to look after their money. Then after you've got it, you prove to them that you were a safe pair of hands and you have got good corporate governance. You are going to tell them everything that's going on, the good, the bad, and the ugly.

That encourages them to stick with you for the rest of the journey. So good investor confidence through good corporate governance and being open and honest with a funding partner always pays dividends.

Final tips: Don't get caught out

People get distracted with the funding and forget to run their business and whilst they might get the interest initially the deal never actually comes to fruition.

Poorly presented funding proposals will damage your chances and prolong the decision process – a factor that comes up time and time again.

Don't forget with friends and family funding document the agreement.

What tips do you have to offer?