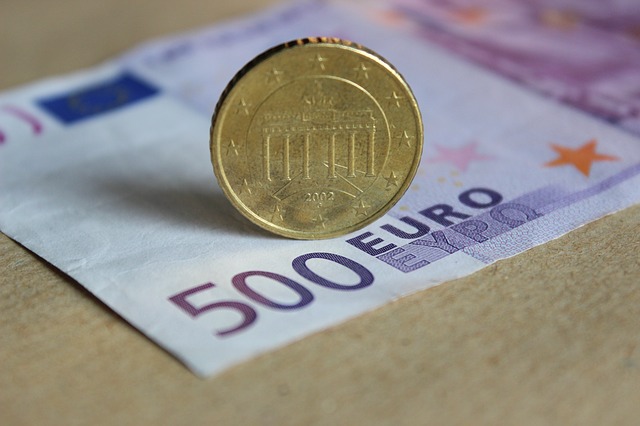 I am pleased to share in my latest Economic Update that the UK economy is now growing across all sectors, with the exception of agriculture which shrank by 0.7% in the first quarter of 2014, but this is primarily due to the weather. Here are some of the key findings from my report in short form.
1. Manufacturing is going strong
Manufacturing has had its best quarter for 4 years. The economy is now only 0.6% smaller than the peak in Q2 of 2008 – if this continues there will be an overall growth of >3% for 2014, which would be excellent for all. (Take a look at our recent SME Confidence Index to see how Vistage member's compare)
2. Net lending continues to fall
Net lending by UK banks to business continues to fall, and is 2.1% less than it was a year ago. The money supply would be contracting but for strong growth in consumer credit at just under 5% year on year, as well as a 1.1% growth in net mortgage lending.
3. The Black Market Economy is growing
In the first quarter of this year, the government enjoyed VAT receipts of £500m less than a year ago. This implies that the black market economy is growing. Indeed a recent report by Merrill Lynch suggests it is now 14% of GDP (nearly double the long run estimate of 8%).
4. It's not a debt fuelled recovery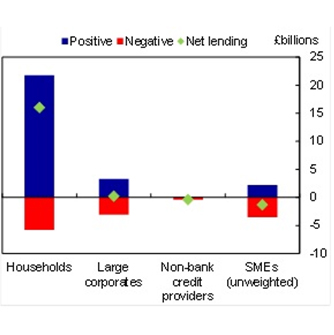 As you can see from the above chart, net lending is flat or negative for all businesses, but is £15Bn positive for households. This is mostly credit cards and unsecured borrowing. It is financing about 2.5% of consumer spending. I do not consider this sufficient to support debt fuelled recovery headlines.
We are about 12 months from a general election. Rising house prices (at around 3% pa) with low interest rates is an election winner. A debt fuelled speculative housing bubble is likely to be seen as a cynical ploy.
5. House Prices are on the Rise, but...
Real house prices have begun to rise again, and the data for March shows an increase in momentum but it will not continue.
6. The Balance of Payments and the Exchange Rate
We are a major trading nation; 32% of GDP comes from exporting. In most goods sectors, the UK's performance is close to, and sometimes above, that of France, but Germany is usually way out in front.
There is a weak correlation between the sectors that contribute the highest value to overall UK exports, and the sectors where the UK has the strongest share of global exports.
The majority of UK exports consist of manufactured goods such as machinery, pharmaceuticals, electrical goods and vehicles, plus mineral fuels and related products.
Pharmaceuticals is the only one of the above where the UK has a market share above 5% for the overall sector.
The UK tends to export a lower volume of goods to markets with a lower GDP per capita, because of the premium nature of the products.
We tend to have a lower market share in more geographically distant markets. The effect of distance is exaggerated when the market is also culturally and/or linguistically different, but our share tends to be higher in distant markets with strong cultural and historical ties, such as Hong Kong and South Africa.
Our highest sectoral deficits are in electrical equipment (your washing machine), vehicles (your car) and mineral fuels and oils (we need to frack). Our trade balance is somewhat reliant on the oil price.
At present, 23% of UK SMEs export, which is on a par with other large EU economies, and nearly half of these are considering entering new overseas markets.
7. Growing Markets
Currently, the BRICs and MINTs (Mexico, Indonesia, Nigeria and Turkey) are rapidly developing domestic capability and/or overseas partnerships in areas such as aerospace, automotive, transport, business services and creative and educational services. They will continue to move up the value chain, and start providing an increasing level of direct competition to UK providers of high-tech goods, branded and luxury goods, and skilled services.
In recent weeks there has been a lot of media noise suggesting that because the UK is now one of the fastest growing economies, interest rates will rise. In the USA an awful winter has reduced growth to near zero in the first quarter, and delayed interest rate increases, so the markets are betting that the UK will raise rates before the US.
8. The UK and the EU
There are important distinctions and issues to fully understand before making a judgement on 'in or out'. In my latest Economic Update I highlight what I consider the options to be.
More from Vistage: