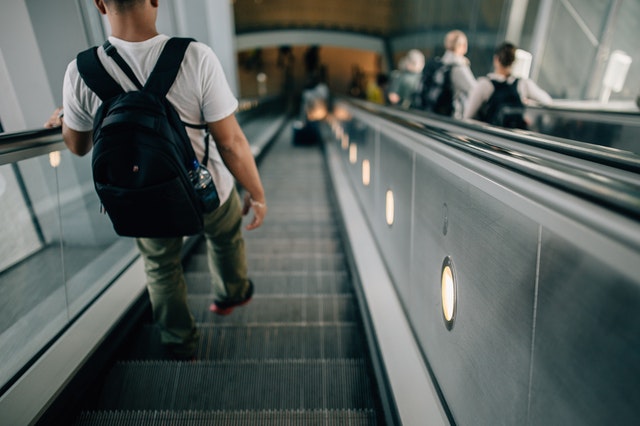 According to the recent Vistage UK Confidence Index (June 2017 – completed after the election), while over 70% of SME businesses remain confident about their future, 47% of them cited talent management – the ability to attract, recruit and retain – staff as their biggest concern. Industry data and basic demographics suggest that this could be a growing problem over the next seven years as 14 million UK employees are expected to retire but just seven million people of working age will enter the market, leaving a seven million deficit.
Vistage economist, Roger Martin-Fagg, says, "When it comes to talent management this is about finding and retaining the right people to take your business to the next level. With employment levels at an all time high I suspect business owners will have to offer new talent packages above current market levels to get new talent through the door, along with finding more innovative ways of targeting people that aren't looking to move jobs. This is why UK SME leaders are citing this as a top concern, after all your business really is about the people that run it with you."
So what should business leaders be doing to give them the best chance of attracting talent?
One of the key things I see in my work within the SME sector, is that organisations that are great places to work, naturally attract talent.
Is your organisation a great place to work?
According to the employer review website Glassdoor, in their 2017 'Great Places to Work' survey, employees rated the following organisations as great places to work – and here's why:
Glassdoor:
| | |
| --- | --- |
| Top 5 Great Places to Work in the UK | What makes them great? |
| 1. Expedia | Fast growing, dynamic place to work |
| 2. ARM | Freedom and friendliness |
| 3. HomeServe UK | Flexible and supportive |
| 4. Mott MacDonald | Great careers (not just a job) |
| 5. Hays PLC | They support and develop you |

This stuff is not just for the 'big guys'. In the 2017 Sunday Times 100 Best Companies to Work for, the top 5 Best Small Companies included:
Sunday Times 100 Best Companies to Work for:
| | |
| --- | --- |
| Top 5 Best Small Companies to work for | What makes them great? |
| 1. Talon Outdoor (media agency) | A really exciting place to work |
| 2. ThirdWay Interiors (office design) | A strong sense of family |
| 3. Austin Fraser (recruitment) | Lots of fun, love working here |
| 4. JCW (recruitment) | Personal development and flexible working |
| 5. Equilibrium Asset Management | Staff wellbeing and life balance |
So is your organisation a great place to work?
What else do you need to do to make your organisation a destination for great talent?
According to a survey conducted by Harris Poll on behalf of recruitment firm Indeed, several other factors come into play when people are looking for their next employer.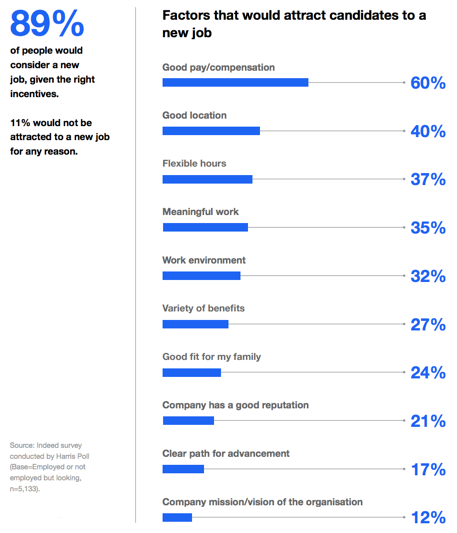 Good pay and compensation is still at the top of the list, but location, flexible working, meaningful work, the work environment and the variety of benefits all play a big part in the choice of employer.
How do you job offers stack up to this list?
How does talent know that your organisation is a great place to work?
Even if you are a great place to work, how do people know that? In today's world, everyone has a lot of choice – the days of having to work at the local firm, or having to stick with a specific career are gone. We're also used to doing our research before making our choices. We live in a tripadvisor age – it's not surprising that organisations such as Glassdoor are a prime source of information for people considering changing their job.
So how do people know how great you are? My own crude survey of client organisations that I work with, discovered that less than 20% had content on their website that actually described what it was like to work for them. Some add vacancies to their website, but that's not the point. Do you actually describe what it's like to work at your company? Again, this is not just for large organisations. Even the smallest company needs to display images and words that reflect who they are, and why people should work there (why stop at words and images – why not have videos of your staff showing what reality is?).
5 Things to help your organisation be a destination for talent
Whatever size your business, whatever sector you work in, I believe that the next few years will involve even more focus on getting the 'right people on the bus'. Here's my suggestion for 5 Things you should be doing to make your organisation a destination for great talent:
1

Look at the way you work and the benefits you offer staff. Again, you may think that flexible benefits, fun etc. are just for the 'big guys' – if so you'd be making a mistake. Want an easy step forward in this area ? Check out Perkbox: https://www.perkbox.com/uk/

2

Add a permanent page on your website that describes what it's like to work at your organisation. Make that page exciting, inspiring, fun, attractive – it's your showcase, your shop window.

See examples (view the web pages and scroll down to see how they do it:

https://www.austinfraser.com/en/about-us/join-us/

https://www.homeserve.com/uk/careers-hub

http://talonoutdoor.com/talon-people/?active=38

3

Always be recruiting! Don't wait until you have a vacancy before advertising that you're open to talking to people. Great talent might be looking for an opportunity to move. If they think that you have no vacancy they'll look elsewhere – they may end up with your competitor. Invite great talent to contact you – state clearly that you're always looking for the best people.

4

Checkout the reviews on Glassdoor – and embrace the concept! Engage with the 'crowd' – they're talking about you; why not join the conversation?

See the Vistage blog: http://blog.vistage.co.uk/have-you-looked-through-the-glassdoor

See Glassdoor: https://www.glassdoor.co.uk/Reviews/index.htm

5

Implement a staff referral/incentive system. If your existing staff love working with you, and know what great talent looks like, why not let them introduce new talent and reward them for doing so? Check out these presentations given at a recent seminar on employee referral schemes – some great messages and techniques: https://www.inhouserecruitment.co.uk/employee-referral-scheme-round-up-up/
Don't just look for talent when you have a job vacancy – be a destination for talent!
About the author:
Steve Gilroy is a Vistage Chair and Executive Coach working with business owners and executives in London and Cornwall.
Steve Gilroy
Steve.gilroy@vistagechair.co.uk | 07786 331847 | https://www.linkedin.com/in/stevegilroy/
This article first appeared on LinkedIn Pulse.
More from Vistage: