Many business leaders struggle to delegate effectively at the best of times. With hybrid working now the norm - and with the need to delegate remotely - it's become even harder.
It's a topic that Vistage Speaker Malcolm Smith explored in his recent webinar: The Art of Remote Delegation. You can watch the hour-long webinar in full here - read on for our key take aways…
The pros and cons of hybrid working
While many initially feared that hybrid working would be accompanied by a decline in productivity, this hasn't been the case. Many, says Malcolm, have just got on with it with very little supervision or micromanagement.
"People want delegated freedom", he says. "They want a balance between constraint and freedom that improves both time management and motivation."
What's your next step after your C-Suite role comes to an end? Our free guide will help you to decide.
However, there have also been disadvantages to the hybrid setup. The four key issues that Malcolm has noticed are:
A fall in learning and development opportunities
Struggles with succession planning
The ability to demonstrate potential growth opportunities
Not seeing the leadership team and the board on a regular basis
These, he highlights, are all motivators. "There's a balance between the flexibility of working hours and the beauty of being delegated freedom, autonomy and control", he says. But how can leaders delegate successfully when these motivators are somewhat lost?
The hierarchy of needs
The first tool that Malcolm recommends for successful delegation while hybrid working is Maslow's hierarchy of needs. Developed in the 1950s, this five-tier model lists the most basic human needs at the bottom, with higher tiers unable to be satisfied until the lower tiers are met.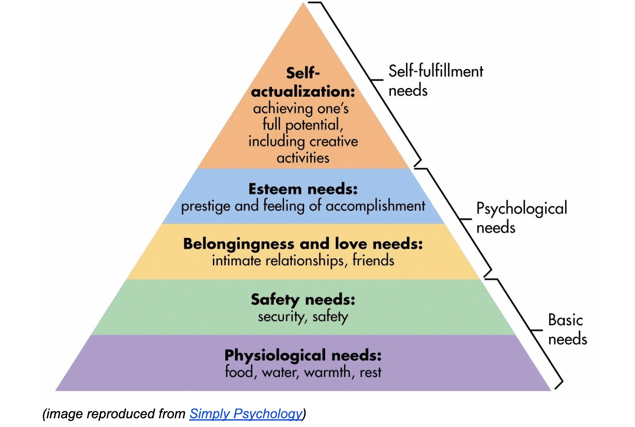 The top three boxes are more psychological. "I've used this chart a lot across my career", says Malcolm. "It's important to me to establish not only where my people are on this chart, but where I am, too."
These psychological factors mirror research by Frederick Herzberg, one of Maslow's peers. Here, he posited that human motivators are independence, control, autonomy, growth, opportunity, praise and a sense of belonging.
"Both Maslow and Herzberg's research shows that what's important is not time management (the common assumption), but motivation", says Malcolm. "The real trick of delegation is entirely motivational as it gives people their own delegated authority".
In a hybrid environment - where people receive immediate praise, thanks, smiles and support - leaders must establish where the losses of motivation are when delegating remotely, and how they can keep their people motivated.
Why your leadership style is important for delegation
The next model that Malcolm finds useful for delegation is the Tannenbaum and Schmidt continuum. This continuum begins with a highly autocratic style of leadership, moving through to an entirely delegational style. On the left, the leader makes solo decisions and has complete control and authority. On the right, employees have total freedom.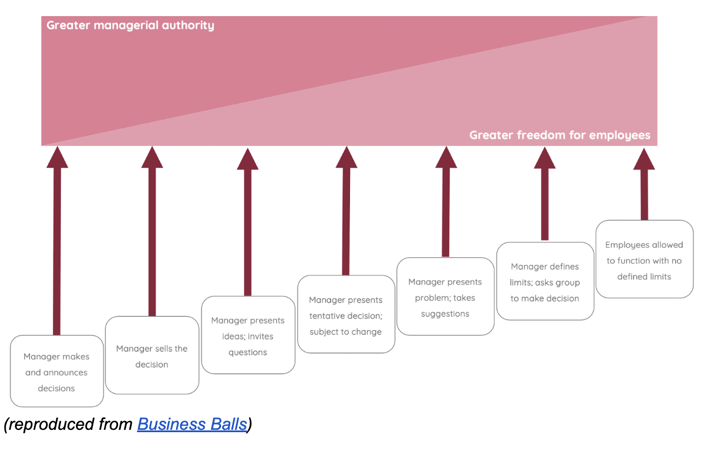 "People say you shouldn't be an autocratic leader", says Malcolm, "But it needs to happen in times of crisis or when someone is new to a role or task, to make them feel less vulnerable".
When you combine this continuum with Maslow's hierarchy of needs, the 'tell' leadership style fulfils safety needs, but doesn't motivate. In terms of time, this style of leadership takes no time at all - making it attractive for leaders - but it can be hard to break out of this cycle. "Move quickly away from a 'tell' style after safety has been satisfied", advises Malcolm.
After the 'tell' style comes the 'sell' style. "Here, you're conceptualising a task with your vision or mission statement", says Malcolm. "You're explaining the reasons why you're asking someone to complete a task". The time this takes is higher, but this style of leadership still doesn't really motivate.
If you want to continue to learn, develop and grow post-C-Suite, our new guide will help you to work out your next steps.
The next step on the continuum is a consulting style. Here, you ask your team members what they think, sharing the planning and solutions together. This takes more time for the leader but moves the employee to be better motivated. "It gives them a sense of belonging and team spirit", says Malcolm. "It makes them think, 'I've got a part to play in this'."
This is followed by a sharing style, where leaders and workers are on first name terms in a friendly and sociable office environment where a hierarchy of roles is not so visible. This takes up a great deal of a leader's time, but gives them great feedback. Leading in this way can motivate workers, and encourage them to pick up the tasks they think they should be picking up.
"The big problem is that we stop there", says Malcolm. "It's ok when things are good, but when there's a downturn, a recession or another problem, we have no time to think. So we need to move to a highly delegational style."
Avoid "KPI-ing people to death"
This delegational style of leadership is important during times of crisis, as it avoids "KPI-ing people to death". "It involves a massive step change in motivation", says Malcolm. "It's switching from self-esteem and praise through to a massive amount of trust, and the message that 'you can do it better than me'." It fosters autonomy, which is what people really enjoy, and leads to a thriving environment.
The next step? Empowerment: simply leaving your team to get on with what they're doing. "With empowerment, you'll still be there to support", says Malcolm. "But you've pretty much abdicated responsibility and left them to get on with the job."
Get a grip
Empowerment essentially means letting go of control - even more so in a hybrid empowerment. "Great leaders have to be very happy to give away control to others", says Malcolm. "But while you're giving away control, you also need to keep control. This is why the concept of grip is important."
Grip over a process ranges from high to low, and is mirrored against the leadership styles that Malcolm discussed.
A very high grip process goes alongside an autocratic leadership style. That grip reduces the closer you get to a delegational style of leadership.
It can also be mirrored against competency. If somebody is new to a role or task, for example, your level of grip will likely be high.
"A high grip process will involve great frequency, quite a formal approach, a high level of coaching and maybe a metric-based approach - a highly KPI'd style of management", says Malcolm. "At the other end of the spectrum - after the right learning and development process - your level of grip should reduce. This will mean more infrequent and informal catch-ups."
In a hybrid environment, there is more to consider - and it can be mapped using the Tannenbaum Schmidt continuum.
"The closer to a 'sell' style you are, the more grip you'll have", says Malcolm. "Grip is relinquished the further along the continuum you go."
If retirement doesn't appeal, why not consider becoming a Vistage Chair?
This grip is important in many areas of hybrid working. When planning, will you tell people your plans, take a consultative approach, or allow them to plan their own work themselves? When taking actions, will you check before they carry out the work, leave them to do it and have a reporting process throughout, or will you give them the freedom to do things the way they want to do them, with no reporting?
The actions you take will depend on the leadership style you have taken when planning the task.
"Remember", says Malcolm, "that over Zoom, you'll need to be more detailed when planning. In an office, people will likely have already got some background about the task from listening to others talking, from seeing physical information or from chatting over coffee."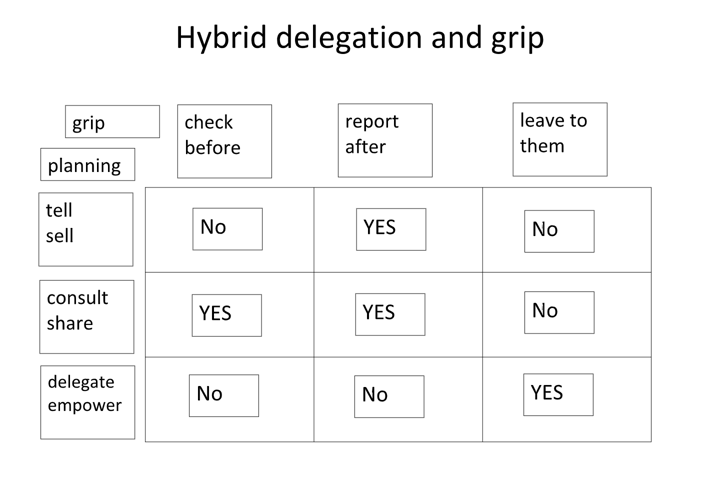 Six key action points when delegating remotely
Malcolm's webinar ended with his six key action points for delegating remotely.
1. Prepare more background
"You need to prepare much more background information", he says. "In the office, people already have much more information - they're already up to speed to some extent. When delegating remotely, they're not up to speed at all." It's important to add context around what you're doing.
2. Increase frequency of communication
Malcolm stresses that you can never communicate enough - even more important when working remotely, when you lose key signals that workers share through their body language.
"Build rapport, build empathy, ask personal questions about how they are, try and have a cup of coffee together", says Malcolm. "Just make sure you keep them informed, as they're feeling like they're out of the loop."
3. Test understanding
In person, it is easy to see a quick nod of the head, or a person making notes on a piece of paper. When working remotely, gauging understanding of a task is harder.
Malcolm recommends asking, "What do you think you've understood is the work here?" By getting the team to repeat the task back, you can clarify their level of understanding.
4. Share everything with everyone
"Email everything to everyone, all the time", says Malcolm. "Even if it's something that's not directly related to an individual but it's part of their project, it'll keep them in the loop."
Malcolm also recommends inviting people to meetings that they may not wish to attend, but which will ensure they feel part of the team as much as possible.
5. Build and display a summary
"Because people aren't in a room together, the ownership of a task doesn't always transfer", says Malcolm. He recommends building a summary: a built agenda that's been agreed upon which is visible, live, on the Zoom or Teams call.
This can then be sent by email for confirmation.
6. Map your grip methodology
Using the model shared earlier, map your grip methodology. What are you trying to delegate, and what level of grip do you have on the process?
Many thanks to Malcolm for his time. You can watch the webinar in full here.
If, like Malcolm, you're interested in sharing your wisdom with the next generation of business leaders, why not consider becoming a Vistage Chair?
Free monthly virtual talks...
Get ready for an engaging, value-packed, 90-minute virtual experience featuring world-class speakers and community interaction.