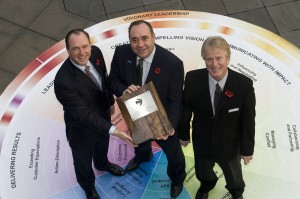 Vistage member Andy Lothian of Insights yesterday opened their new multi-million pound global headquarters in Dundee.

The new HQ, 'Terra Nova', plays a critical part in the company's expansion plans. In a difficult global climate, this international organisation has given a firm pledge to retain its foundations and expand its future workforce in Scotland.

The First Minister Alex Salmond welcomes the firm's decision to retain its base in Scotland.‪ He said: "Our Economic Recovery Plan makes clear the key role that education and skills must play in getting us through the downturn, for example through ScotAction we're enabling individuals and businesses to acquire the skills needed to enter, remain and progress in employment.‪

"The opening of Insights' global headquarters in Dundee underlines the high value of Scotland's people, their skills and experience, to our economic fortunes at home and abroad.‪

"This exciting development is a major boost for Scotland and the Tayside economy as the company expands its reach across the world."‪

The creation of a new global headquarters in Dundee represents a significant milestone for Vistage member Andy Lothian,Insights's CEO who was born and bred in the city. He says "We have a long term commitment to maintaining a global base in Scotland. We are building a platform for global expansion from which we can continue to change personal and professional lives across the world through innovative learning and development techniques, and we are looking forward to creating more high-value jobs across the company."

Businesses operating under the Insights' brand enjoyed a turnover in excess of £20 million during the last financial year. Its two learning systems, Discovery and Navigator, have become recognised as amongst the most impactful learning and development solutions available in the world today, each designed to improve performance and create sustainable lasting change.

For Insights' founding Director, Andi Lothian, father of CEO Andy, the building signifies how far the company has progressed since its formation. He comments: "It houses, inspires and consolidates the passion, spirit and excitement which have fuelled Insights' phenomenal growth since its launch 11 years ago."
The plaque presented to Insights is made from wood from Captain Scott's ship Discovery and coincidentally Discovery is the name of Insights profiling tool.