The events of 2020 have underscored the importance of digital transformation for organisations all over the world and in every sector.
Companies that had already invested in digital transformation and embraced flexible working were much better placed to deal with their countries going into lockdown.
Companies that had dragged their heels or doubted the value of digital transformation were left scrambling to try and find ways to keep working.
Our research has found that despite seeing the need for digital transformation, there is a lack of confidence among executives when it comes to leading digital transformation projects:
32% said they don't feel confident about their ability to lead digital transformation projects, compared to 21% that said they do
38% said their business wasn't ready to embrace it, compared to 26% that said it was
35% said their business model wasn't ready, compared to 28% that felt it was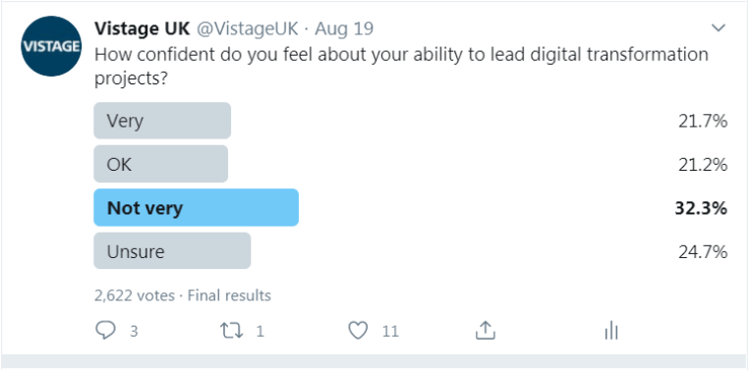 If you feel the same way, here are seven ways to lead digital transformation projects without being an IT expert or having a technical background.
1 - Make innovation a priority
Be the person who is driving change forward. Digital transformation needs to be embraced by the whole organisation, but the process is usually led from the top-down. Leaders need to be seen to be challenging assumptions, experimenting with new ideas and proactively looking for opportunities to modernise.
2 - Get everyone involved
'Digital transformation' is a bit of a misnomer. It gives people the impression that this is all about technology. In fact, it's all about people and changing behaviour.
It's your job as a leader to dispel the myth that this is just about adopting the latest gadgets or tools. You need to communicate that digital transformation is a business-wide initiative that everyone needs to be involved in.
3 - Trust your teams
The only way for teams to embrace new ways of working is to give them the space and the freedom to try things out and see what works. This requires leaders and managers to give their teams more freedom than they perhaps used to.
One of the great benefits of digital transformation is more fluid and networked ways of working. But this only works if people are given the autonomy and the freedom to think and act for themselves.
4 - Hire the right attitude
Some people are more able to embrace change and new ideas than others. Digital transformation requires staff to be agile and to be constantly adapting to new ideas, so make sure that your hiring strategy reflects this.
Hiring staff with a 'growth mindset' will also encourage your existing staff to be more open to new ideas and technologies.
5 - Learn to let go
Your priority as a leader should be guiding the organisation towards its strategic objectives and dealing with the bigger picture. Try to avoid getting sucked into operational details unless you really need to.
Letting go of the day-to-day will empower your teams to take greater ownership of the process and give them the space, support and freedom to explore different options for themselves.
6 - Take the long view
Short-term goals or targets can be helpful in terms of rolling out new solutions, but try to focus on long-term benefits instead of short-term results. Digital transformation isn't a project with a clear start and end date, it's a constant process of learning and improvement.
Short-term thinking will make your people more risk-averse and stifle their creativity and innovation.
7 - Set clear objectives
One of your key roles as a leader is to clearly and consistently communicate:
What you're doing
Why you're doing it
Who's responsible for what
How you're measuring success
You need to set a clear agenda that digital transformation is about creating future value and driving growth in the long-term. The more clear and consistent your message is, the more likely people are to embrace new ideas and changes.
Digital transformation calls for effective leadership. You don't need to be an IT expert. You do need to be an expert communicator with a strong sense of purpose and direction.
If you're looking for more advice on how to lead digital transformation projects, check out our new guide, How to lead digital transformation with total confidence.
You'll learn everything you need to know to lead digital transformation projects, including:
How digital transformation impacts different departments
How to lead digital transformation without being an IT expert
Assessing your business' readiness for transformation
Encouraging staff to embrace change
How to lead your people remotely
We hope you find it useful. If you have any questions, feel free to drop us a line on Twitter or via our website.