The UK manufacturing sector saw the fastest growth in orders and output in almost 20 years on Monday, giving UK economy and global stock markets a timely boost - but the British Chamber of Commerce has warned industry leaders not to become complacent.
Newly released figures for the Markit/CIPS Manufacturing Purchasing Managers' Index (PMI) which measures industrial output, orders and employment reached 57.2% in August, up from 54.8% in July, beating all economic forecasts in a recent
Reuters poll of economists
.
The manufacturing sector struggled in 2012, but the past five months have seen rapid growth since spring in 2013 when the PMI crossed 50%, with positive effects spilling out into the rest of the UK economy according to Markit senior economist Rob Dobson.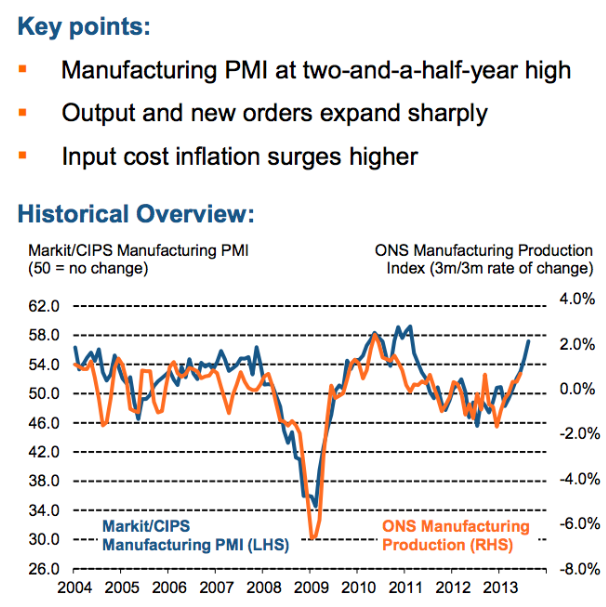 "Orders and output are growing at the fastest rates for almost 20 years, as rising demand from domestic customers is being accompanied by a return to growth of our largest trading partner, the eurozone," said Dobson. "Manufacturing is clearly making a strong positive contribution to the economy, providing welcome evidence that the long-awaited rebalancing of the economy towards manufacturing and exports is at last starting to take place now that our export markets are recovering."
Meanwhile, stock markets have been booming as similar global manufacturing surveys reported similar growth in other regions. China countered a year-long contraction in manufacturing output in August, and factories in Spain and Italy saw growth for the first time since 2011.
However, the British Chamber of Commerce's director general John Longworth warns industry leaders to remain active in pursuing growth. "We have had false dawns in recent years and although this upturn appears to be on stronger ground, we must be aware that complacency could lead to setbacks," he told
Reuters
.