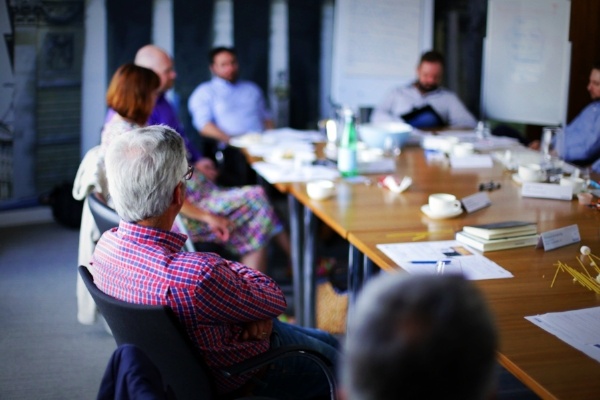 When we asked Vistage expert Chair, Paul Johnson, to tell us what he gets out of his role leading a peer advisory group, his answer was clear: "Being a Vistage Chair has given me a genuine opportunity to do the stuff I love – facilitating, coaching and mentoring people to achieve extraordinary things."
This strikes at the heart of the Vistage ethos – empowering business leaders to grow and to achieve. The biggest enabler of this growth and development is our network of peer advisory groups. These groups, facilitated by expert chairs, help members to gain fresh perspectives and insights, but why are they so effective?
'It's lonely at the top' has become something of a cliché. But, as with most clichés, it's built upon a fair helping of truth. As a business leader, it is often difficult to find truly impartial advice. The people you may turn to in and around your business generally (and through no fault of their own) have vested interests that will influence the advice they impart.
At its most basic level, few employees are prepared to take the potentially career-limiting step of directly challenging the decision-making of their leader. Even management consultants held on retainer will be wary of jeopardising their relationships (and thus their retainer) by challenging the 'sacred cows' in an organisation. That's where the power of peer to peer meetings comes in.
In The Power of Peers, former Vistage International CEO Leon Shapiro sets out five unique aspects of peer group-based coaching that set it apart from other training methods and ultimately lead to 'peer advantage'. They are:
Impartiality
Impartiality is at the heart of every Vistage peer advisory group. Group members offer unbridled objectivity. They have no personal stake in your business and no agenda to pursue. What they do have is the ability to step back and take a panoramic view of your business, which is unfettered by preconception. The only vested interest they share is in seeing the continued success of their fellow group members.
Entwined with this impartiality is confidentiality. Group members can speak freely, safe in the knowledge that all Vistage UK members and chairs sign binding confidentiality agreements. Even the most sensitive issues can benefit from with wisdom of your peers, and you may not be the only group member trying to deal with them. Efficient and effective, structured peer review systems reap outsize benefits within organisations – and the advantages are even greater when the process brings in external players.
Shared challenges
Despite the diversity of experience, industry and weltanschauung in a Vistage peer group, many of the challenges faced by its members are the same. Whether it is growth, profitability, technology-led change or uncertainty, members will offer their unique take on these hurdles and will share the steps they have taken to overcome them.
In addition to the 12-16 members of your peer advisory group, Vistage allows you to connect with over 21,000 peers in the wider network, ensuring that you are unlikely to be facing any challenge alone, while no two perspectives on that challenge will be the same. It is this commonality of purpose combined with the diversity of experience that makes the Vistage peer group so powerful.
Learning
Business leaders will often turn to books for advice, with the reading habits of Bill Gates, Elon Musk et al. well known. There are of course some great resources out there, but burying yourself in a book does little for the sense of isolation that a CEO or business leader can feel. It can also be a challenge to translate the theory from the page into real-life practice.
The nature of the Vistage peer group is such that it is the practice, not the theory, that comes to the fore. Unlike books and other leadership training materials, peer-supported learning is not based solely on case studies, focusing on what happened in the past. Instead, much of the learning is based on what your peers are experiencing right now. Experience is undoubtedly vital, but the nature of business is that the challenges you face today or tomorrow are not always those that others faced yesterday.
The wisdom of the peer groups is enhanced by the wider Vistage knowledge base. Vistage has over a hundred accredited subject matter experts, able to offer advice on a wide range of business topics.
Empathy
The decisions that CEOs or business leaders make will often have an impact on the future of not just their business, but that of their employees too. That is a weighty responsibility and one that is difficult to relate to for anyone who has not held such a role. In a Vistage peer group, your fellow members and the experienced chair will have also faced this burden.
This powerful sense of empathy is what drives each member to be invested in the success of those around them. Moreover, understanding the needs of others is more than a moral imperative; it's an indicator of business success, with organisations ranking highly for their empathy outgrowing others, according to Harvard Business Review.
Owning the solution
Your Vistage peer advisory group will not tell you what to do. They will present you with their opinions, the benefit of their experience and offer up any parallels within their own business or industry. However, they are not there give you a solution. Any question you ask in your group is likely to lead to further questions rather than answers, which means you are likely to come to your own conclusion and answer your own questions with the help of those around you. In this way, you become the owner of your solutions, fully invested in their delivery and clear about the steps you need to take to achieve your goals. This is the best way to grow as a leader, granting you the wisdom and the confidence to come up with informed and considered answers and then using that experience to support others on their journeys.
Moreover, sharing your concerns with others generates accountability for your actions. Once you've let others know your plans, they will hold you to see them through to completion or require you to explain your reasons for not having done so. Studies by the Dominican University of California, among others, have shown that sharing in this way can double an individual's likelihood of acting on a plan, instead of keeping it to oneself.
If you're a business leader who would like to get together with peers from a diverse range of non-competing industries, to both improve your leadership skills and contribute to the development of others, find a group near you. As we've seen, peer review is the only way to get an impartial and objective view of your business.
Alternatively, if like Paul you are an experienced MD or CEO looking for a rewarding opportunity to move into the coaching, mentoring and inspiration of others, consider becoming a Vistage Chair.
Click here to download the first chapter of The Power of Peers by Leon Shapiro and Leo Bottary.