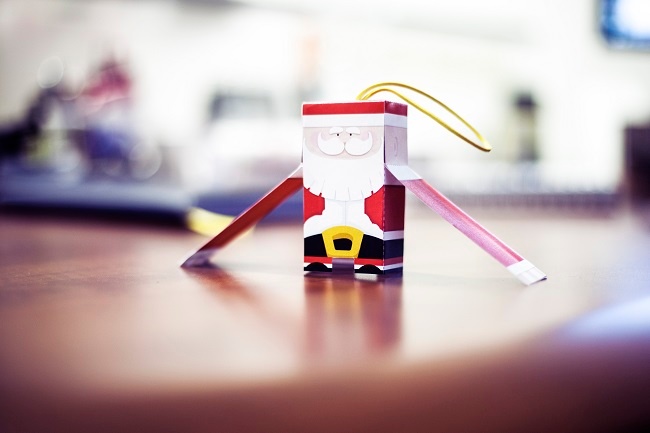 With Christmas approaching, it's time to give some thought to your wishlist or risk unwrapping yet another copy of Superfreakonomics (to add to the ones you received last year).

But where do you begin? With so many books out there on business leadership, it can be hard to separate the timeless treasures from the tired turkeys. Luckily, we've done all the hard work for you. From creating a culture of creativity to harnessing the power of failure, here are the very best of the best business leadership must-reads, chosen by a poll of Vistage members.
If you're a Malcolm Gladwell fan, look no further. Espousing the importance of acknowledging and engaging with our failures, Black Box Thinking is as engaging as it is insightful. Syed explores scientific research, politics, psychology, complexity theory and a variety of real-life cases for a read which transcends the average scope of books in this genre.
The author believes that we often hide our failures from ourselves and others, and in doing so, deny ourselves the opportunity to learn, grow and reach our full potential. "For organizations beyond aviation, it is not about creating a literal black box; rather, it is about the willingness and tenacity to investigate the lessons that often exist when we fail, but which we rarely exploit. It is about creating systems and cultures that enable organizations to learn from errors, rather than being threatened by them."
Everyone talks about it but what does accountability really mean? Greg Bustin's book has all the answers. An in-depth look at the 'Seven Pillars' of accountability (character, unity, learning, tracking, urgency, reputation and evolution), it offers practical advice and exercises for creating a high-performance culture in the workplace.
The first and most crucial step, says Bustin, is all about clarity of purpose — get that right and you have a much higher chance of success.
Part-autobiography, part-philosophy, part-management tome, Creativity Inc. is an essential guide to developing a culture of optimal creativity. Drawing on his own experiences, the Pixar co-founder highlights the importance of tearing up the management rule book and shares his unique methods for inspiring people to reach their full creative potential.
"I believe the best managers acknowledge and make room for what they do not know—not just because humility is a virtue but because until one adopts that mindset, the most striking breakthroughs cannot occur. I believe that managers must loosen the controls, not tighten them. They must accept risk; they must trust the people they work with and strive to clear the path for them; and always, they must pay attention to and engage with anything that creates fear.'
If this book had a theme tune, it would be Gonna Fly Now from Rocky. Inspiring, uplifting and powerful, James Kerr's Legacy takes an in-depth look at the world's most renowned sporting team, The New Zealand All Blacks, to discover what makes them so uniquely successful.
With 15 clear techniques for achieving sustainable success in business, Kerr's insightful guide is both accessible and practical.
"While the history books are filled with tales of obsessive, visionary geniuses who remade the world in their image with sheer, almost irrational force, I've found that history is also made by individuals who fought their egos at every turn, who eschewed the spotlight, and who put their higher goals above their desire for recognition."
The prologue of Ego Is The Enemy sets the scene for a dynamic exploration of this intriguing facet of the human condition — and how it can thwart success. Drawing on examples from history and looking at iconic figures like Eleanor Roosevelt and Howard Hughes, Holiday's insightful book aims to teach you to be: 'less invested in the story you tell about your own specialness…. to accomplish the world-changing work you've set out to achieve'.
Thought-provoking and innovative, Elite shares the secrets of exceptional performance and leadership. Written by an ex-military man who was awarded the Distinguished Conduct Medal, Floyd Woodrow's book offers a glimpse into the experiences of an SAS soldier, transferring motivational techniques learned in the most adverse environments to the world of business.
Lead & Influence is about the power of ownership and why taking ownership is crucial to becoming a more successful leader. Clear and empowering, Mark Fritz's book explains exactly how to implement ownership: firstly, you must establish your own personal ownership, secondly, strive to enable ownership in others and finally focus on enabling ownership within your team and organisation.
Mark believes that taking ownership as a business leader leads to better accountability - and crucially, engenders a culture of ownership amongst staff. As he says: 'When was the last time you washed a rental car? Probably never because you don't own it.'
If you want less theory and philosophy and more practical application, this is the book for you. With his no-nonsense tone and clear purpose, Gino Wickman identifies the five most common frustrations faced by business leaders and offers a practical and simple method (Entrepreneurial Operating System) to combat them on a short, medium and long-term basis.
The objective? Cohesion. 'You must have one abiding vision, one voice, one culture and one operating system. This includes a uniform approach on how you meet, how you set priorities, how you plan and set your vision, the terminology you use and the way you communicate with employees.'
According to a study by Cube Smart Inc on the loss of productivity, workers experience some type of interruption every 8 minutes. With each interruption taking an average of 5 minutes to resolve, this amounts to around half of the working day.
With our lives more noisy, chaotic and distracting than ever before, Cal Newport explains how we can find our inner quiet place and cultivate a deep work practice - focused, distraction free time to get BIG things done.
By analysing how prominent academics and leaders utilise deep work habits, Newport shares the tools of their success —and why this deeper way of working is so advantageous in the modern world. Deeper working doesn't just lead to better work, it can give us the greatest gift of all: time.
Celebrated by some for his unconventional approach to business success, self-help guru Timothy Ferriss' latest book will not disappoint his fans. The New York Times bestseller explores the 'tactics, habits and routines of billionaires', and explains how you can incorporate them into your daily life.
Despite some of the techniques lacking mass appeal, the tips in Tools of Titans range from the prosaic (skipping breakfast, frequent exercise and the power of meditation) all the way to the unorthodox (microdosing LSD to boost productivity), so you can pick and choose at will.