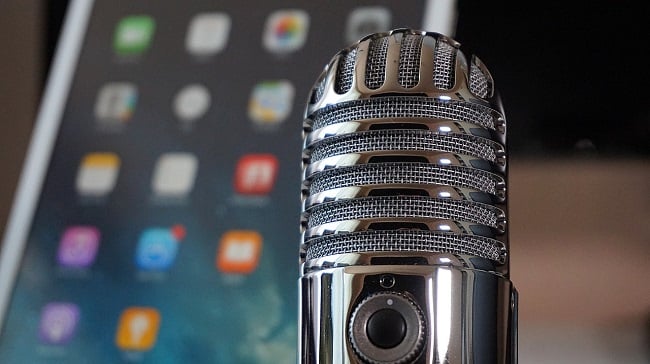 Every day, people upload 4 million hours of content to YouTube, bloggers, businesses and brands publish 2 million blog posts, and the chattering masses fire out over six hundred fifty-six million tweets. The internet is a busy place.
Every platform, every channel, and every notification demands your attention, but let's be honest, very little content out there is worth your time. Time is precious, so it's crucial to sort the wheat from the chaff.
We've already shared our top YouTube channels to help you become a better business leader in 2019, and now we're turning our focus to podcasts. Have a read, and find out what you should be listening to this year.
a16z
Venture capital firm a16z backs tech-led entrepreneurs, from seed right through to late-stage businesses. As you'd expect, this Silicon Valley team's podcasts tend to have a technological slant, but guests are diverse and include everyone from university professors to authors, and sports analysts to IT company directors.
What you'll learn
Expert takes on the latest industry trends

Predictions for the future of tech and culture

A wide range of viewpoints from all manner of industries
2 Bobs
https://2bobs.com/podcast/if-i-were-starting-over
Blair Enns (CEO of Win Without Pitching) and author, advisor and speaker David C Baker are the 2 Bobs—the name deriving from the movie Office Space. "Conversations on the art of creative entrepreneurship" is their strapline, with the pair taking turns to interview each other on a different topic every week.
What you'll learn
Lessons from creative firms that any industry can apply

Valuable tools for all aspects of today's entrepreneurs business

Views on topics that span structuring roles, growing accounts and more
HBR Ideacast
https://hbr.org/2018/01/podcast-ideacast
The Harvard Business Review team upload a new podcast each week, hosted by executive editor (and favourite on the speaking circuit) Sarah Green Carmichael. Every week, she speaks with a different leading thinker in business and management, with recent episodes having included consultants, communications experts, and professors in history, business, strategy and marketing at top universities.
What you'll learn
Invaluable business advice from everyone from consultants and academics to John Kerry

How to handle leadership issues like nurturing respect, and managing someone who's too collaborative

Views on topical issues including AI and cybersecurity
Masters of Scale
Winner of 2018's People's Voice Webby for Best Business Podcast, Masters of Scale is brought to you by LinkedIn co-founder and Greylock investor, Reid Hoffman. Each episode features a different theory on how businesses can scale successfully and tests this theory by interviewing a business leader about their journey. And it's big, with previous guests including Daniel Ek of Spotify, Kevin Systrom of Instagram and Mark Zuckerberg.
What you'll learn
Stories from real business leaders told with refreshing candour

A number of ways to successfully scale your business

Actionable tips, from those who have been there
FT Start-Up Stories
https://www.ft.com/start-up-stories-podcast
The FT's Business Education Correspondent, Jonathan Moules, hosts the paper's sporadically-produced podcast, chatting with entrepreneurs from various industries about their stories. From entry through to exit, there's plenty of inspiration here for anyone looking to grow their brand.
What you'll learn
Real stories from entrepreneurs who have built successful brands

Not just the positives: topics include bankruptcy and bad hires

Advice on working towards a successful work-life balance
Business Leader Magazine Podcast
https://www.businessleader.co.uk/podcasts/
Topical interviews, industry insight, expert editorial content...the Business Leader Magazine Podcast is undoubtedly varied. Generally, the team produce at least one episode a month, featuring interviews with guests as diverse as Bristol City FC owner Stephen Lansdown and Dragons' Den's Deborah Meaden.
What you'll learn
Business leaders' takes on topical stories

The tales behind the successes of businesses of all sizes

Round-ups of the latest news stories relevant to business leaders
The Business Podcast (The Guardian)
https://www.theguardian.com/business/series/the-business-podcast
It may have been a while since The Guardian last produced an episode of its Business Podcast, but previous recordings are well worth a listen. Their "Confessions" series share the highs and lows of starting a business, while the "Meet the Mentors" episodes bring together a high-profile entrepreneur with someone just starting out to offer advice.
What you'll learn
Personal, detailed stories of entrepreneurial life

How to handle both positives and negatives

Advice from those who have succeeded
How I Built This with Guy Raz
https://www.npr.org/podcasts/510313/how-i-built-this
National Public Radio's Guy Raz is the man behind their TED Radio Hour, as well as the How I Built This podcast. Focusing on entrepreneurship, it became one of the top 20 downloaded podcasts in the US in 2017. In each episode, he interviews a different innovator or entrepreneur—including the founders of Method cleaning products, Lyft and Airbnb - in a format that tells the narrative journey of their approaches.
What you'll learn
The stories behind some of the world's best-known companies

Plenty of revelations about what entrepreneurship is really like

An inspiring guest list including top brands from all sectors
Business Wars
https://wondery.com/shows/business-wars/
Radio anchor and journalist David D. Brown presents Business Wars: a podcast telling the stories of how brands have adapted to compete successfully with both incumbents and rising challengers. Napster vs. the record labels, Red Bull vs. Monster, Xbox vs. PlayStation: there are some great, real, unauthorised stories of what drives these brands' leaders to succeed.
What you'll learn
The challenges of overcoming the competition

What drives business leaders to succeed—or not

The reasons behind competing, be they attention, money, or the thrill of the challenge
Dose of Leadership
https://www.doseofleadership.com/
While you can learn about great leadership from great business leaders—one of the USPs of the Dose of Leadership podcast is that it also draws from less obvious sources of inspiration. As well as CEOs and entrepreneurs, you'll learn from faith-based leaders, military heroes, authors and more, giving plenty of inspiration from all walks of life.
What you'll learn
The key to successful leadership from both business and other leaders

Actionable tips on how to become a better leader

Insightful interviews in a conversational style
So there we have it. Ten very different podcasts from a variety of hosts, but all with one thing in common: they're packed full of insight, inspiration and actionable advice to help you become a better business leader for 2019 and beyond. Missed your favourite? Let us know on Twitter.
We love a good podcast, but they're no replacement for real life events. Take a look at some of the great Vistage events coming up.