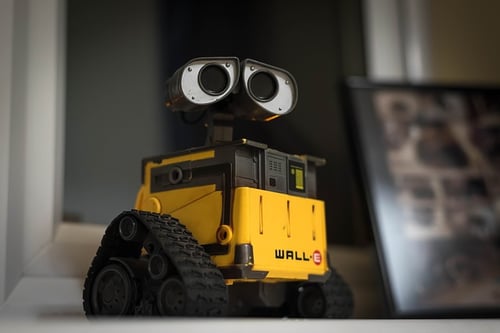 Pixar is an amazing business. Built on imagination and creativity, it harnesses the potential of digital technologies to create the most engaging characters and films.
In 1979 Star Wars creator George Lucas and computer scientist Ed Catmull established the foundations of what was initially a digitally-enabled special effects business. Seven years later Steve Jobs acquired the studio, renamed it Pixar, and gave birth to some of the most successful animated films - like Toy Story, Finding Nemo and The Incredibles. Today it is the creative heartbeat of the Disney empire, and one of the world's most innovative businesses.
Pixar is a digital content business, and in many ways that's what brands are today. Beyond the products and services which they support, brands are about ideas, stories, relationships and communities, and the capturing and sharing of them increasingly digitally, virtual experiences which become reality.
So here are 12 insights from Pixar, inspiration for every CEO and business leader:

1. Imagineering – ideas are the starting point, driven by insight and experience, but more often through imagination often through the creation of a "imagine if" scenario which is gradually scoped out and brought to life from the future back.
2. Creative fusions – this is not an ingredient, but the essence of the whole business, where the creative process defines the organisation, its operational and commercial models, enabled by the fusion of creative talents.
3. Deep immersion – thinking like the character, and like the audience, is the skill of the animator – recruiting people who are great actors, who can put themselves inside the heads of others, see and feel, think and act like they would or want.
4. Storytelling – the core narrative that brings together characters and experiences, in a way that adds context as well as the plot, immerses and captures the imagination of the audience, and makes it memorable and talked about.
5. Humanity – whilst technology is essential to a Pixar movie, in terms of production and distribution, it is not what matters most – these are human stories, where the characters tap deep into the emotions and psyche of its audiences.
6. Moving you – a Pixar movie is fun and entertaining, gripping and memorable, but more than anything it moves you – it inspires you, it makes you think, it challenges your prejudices, or makes you cry with happiness.
7. Viral infections – these stories are truly contagious, becoming the "must see" for generations of children – more than just advocacy, their stories and the desire to watch them, spread like wildfire.
8. Branded content – the business is a phenomenal example of a large and complex brand architecture that really works, with each brand clear and distinctive - Pixar is a brand, Toy Story is a brand, and Buzz Lightyear is a brand.
9. Personality – at each level, the brands are more about a sense of character, attitude and behaviours, rather than names and logos. Indeed as long as the essence of the brand is strong, the visualisations can flex and change.
10. Content spinning – beyond the movie, licensing each level of brands across many different products, adding to the experience – from theme parks and computer games, to books and clothing – all part of the business model.
11. Never ending – Pixar is a relentless stream of creative success, replicating the model with ever more innovative stories, stories which themselves have no end – living, evolving - Toy Story 3 was just as good as the original.
12. Inspired leaders - a creative business is by definition chaotic and unstructured, but that's why leadership matters more – an inspiring purpose, a shared direction, confidence and clarity, led by an energising leader.

The parallels for brands and marketing are everywhere in Pixar… the pivotal role of the CCO and the creative team within the business, the primacy of audience, the bringing together of talents, the nurturing of ideas, the building of personality, the pursuit of compelling narratives, the dreams and emotions, always delivering on time and to budget. And a relentless stream of success.

Maybe brands need to own more of their own creativity, rather than being subservient to their agencies. Maybe they need to immerse themselves deeper in the world they are trying to simulate and stimulate, to challenge each other, to unlock and mesh their talents, in a more sustained and evolving way. Indeed the marketing departments of Apple and Zappos are more like creative studios, the hub of business thinking, delivering strategies and innovations, as well as brands and communication.

Lassiter describes the process as "telling a great story, but not too predictably" maybe like a marketing programme needs to evolve rather than be a series of quickly discarded campaigns. He talks of "taking people to another world" which equates to the ability to reframe brands in contexts that have more relevance for audiences, and more scope commercially. He talks about "characters that people develop a deep bond with" which is at the heart of building an emotional connection, doing more for people, creating a brand they love.

Of course, it is the whole story of Pixar which is a lesson for brands today, not just the way in which Pixar themselves use their brands. Few brands, few marketing leaders, can have achieved the success of Lassiter and his team, either in terms of global awards or commercial results.

Most important, is to apply the lessons of Pixar's creative process to the challenge of brand building. This is where many marketers are falling behind, and where many business leaders fail to recognise its importance and impact.
This article is an extract from "Gamechangers: Creating Innovative Strategies for Business and Brands" by Peter Fisk.
More from Vistage: