Luke Quilter is pretty unequivocal about the need for businesses to embrace digital in the post-COVID era:
"The situation could easily become terminal for businesses that can't embrace change."
Luke is the CEO of Sleeping Giant Media, Giant Campus and Pocket Giant. He's also an accredited Vistage speaker, coach and lecturer who has spent the last 15 years helping businesses of all shapes and sizes to embrace digital marketing.
We caught up with Luke to discuss how businesses that haven't embraced digital should get started and why it's so important to do so right now.
We'll be hosting a webinar with Luke on the 22nd July. So make sure you sign up if you'd like to know more about anything mentioned in this article.
Embracing digital is about embracing experimentation
Digital is one of those words that means different things to different people. Is it all about your website? Is it social media? Is it about writing blog posts or is it about making videos?
Luke says that it's actually simpler than most people realise.
"Digital in a nutshell is just getting more relevant traffic to your website. When we talk about 'digital' we're talking about the digital marketing aspect of it. What's your web presence? How can you do more with it? How can you get more traffic?"
One of the main things that stands in the way of organisations that are new to digital is their mindset. Digital is fast-paced and, to begin with, it can be a bit unpredictable. There's no way to know how things will work out until you make a start.
"Doing digital well requires a certain mindset".
"Doing digital well requires a certain mindset. It's not just about how technically you can set up Twitter or Facebook. It's about how you can do something new to be relevant for customers in the future.
"For the businesses that haven't embraced digital before, there needs to be an understanding that you need to approach things differently. And what that means is that sometimes you might not get it right, but that's OK."
A key part of this is embracing uncertainty and accepting that experimentation always carries the risk of failure but also the chance of success.
"It's going back to that startup momentum and entrepreneurial spirit. Trying new things. These last three months should have taught us all that we do need to do new things sometimes. The businesses that have been able to pivot and adapt and reinvent are the ones that are winning."
Digital marketing is more personal than ever
One of the biggest digital marketing trends over the last ten years has been the rise of social media. And as a result, the increased importance of personal branding.
Leaders are now expected to be both visible and active online. Some people will be more comfortable with this than others.
"People need to be people more than ever in their marketing right now. And I think that can be particularly tough for some leaders who aren't used to this.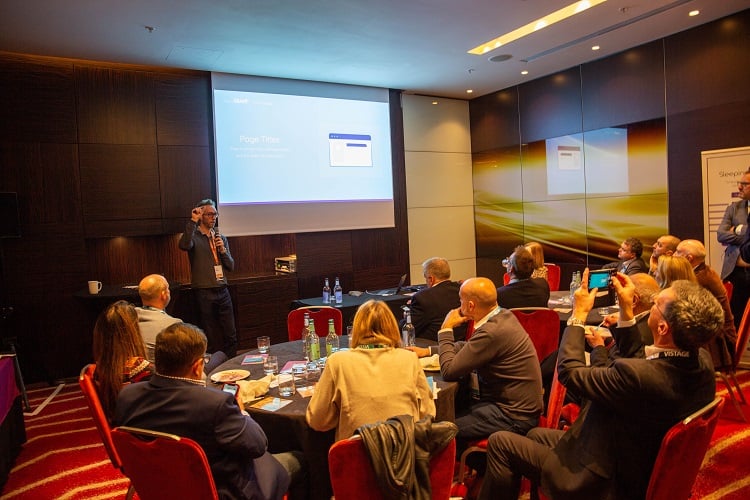 "LinkedIn's a perfect example of this. During the crisis its usage has gone up significantly and the businesses that are being effective are the ones who are using the personal brands of their team. The CEO or executives that are on LinkedIn and being themselves and talking to other people."
Part of the challenge is that LinkedIn can feel intimidating. There are people on there with enormous audiences who are already very skilled at creating and sharing high-quality content.
But Luke says that you don't have to compete with these people to get value from it.
"The challenge is - and this is something we will talk about on the webinar - that you don't have to be making videos, you don't need to be on camera, you don't have to have loads of followers. You just need to be authentic."
Using data to inform your strategy
Digital can present organisations with a dizzying array of potential options and approaches. But done right, it can also provide unequivocal data about what's the best approach for you.
"One of the most powerful things about digital marketing is the tracking and transparency that digital has over most other forms of marketing. Once leaders have got over the initial uncertainty, then they can start making decisions based on data.
"I think data is why this sector is growing so fast. Because we can get past people saying: 'I think this is probably best.' Instead we can say: 'the data tells me this is what we should do.'"
"There are actually a lot of free tools out there."
Gathering data may sound technical and hard to achieve, but there are actually a lot of free tools out there that organisations can use to get started.
"A great starting point is Google Trends. You can look at how customer behaviour is changing based on what people are searching for and that data can inform your content strategy.
"To give you an example of this, we did some research recently and found that 'filters for video calls' was a fast growing search term. We then created a piece of content targeting that search term which now ranks number one for that keyword."
This insight-led approach to creating content doesn't have to happen online. Your customer-facing staff are often a great source of content ideas.
"An even simpler way to get those sorts of ideas is asking your team what questions customers regularly ask them. Often the insights that you need to come up with content ideas already exist within your organisation."
Thanks to Luke for making the time to catch up.
If you'd like to learn more about anything we've mentioned in this piece or have specific questions for Luke that you'd like answered, don't forget to join our webinar on July 22nd.