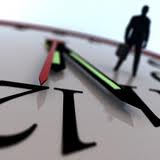 Advances in technology mean that UK office workers' expectations over working hours have changed significantly.
Reported by
freshbusinessthinking.com
, figures suggest the number of home workers has doubled from 21 per cent to 40 per cent; while the number of employers offering flexible working initiatives for parents had increased from 28 per cent to 44 per cent.
However despite these positive changes, around a quarter of office workers wish their working hours were amended so they fit better around their lifestyle. Some of the main reasons for a change include allowing a better fit for adults with children to look after or working looking to avoid a tough commute.
This could provide food for thought for a firm's CEO looking to implement such practices. Flexible working hours can help improve productivity and motivation levels, allowing firms to reap the rewards of a productive workforce.
Gary Rider, President at Polycom EMEA, commented on the figures: "Businesses have changed significantly over the past ten years thanks to technological innovation, but our figures show that the majority of employers still don't provide their staff with enough flexibility.
"At the same time flexible working arrangements benefit everyone: employees who want a better work/life balance, businesses who would enjoy a more productive workforce and the UK economy that needs to reduce the £8 billion annual spend on congestion," he added, cites by
computerweekly.com
.