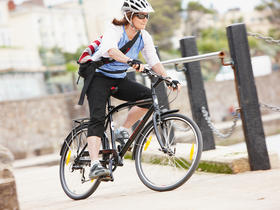 UK companies should be trying to get their workers to cycling to the office more, says a health expert.
The National Institute for Health and Clinical Excellence (NICE) claimed companies need to do more to encourage employees to get on their bikes. It claims that more workers cycling will improve their health, as well as the environment, according to
yahoo.com.
The Government has pledged its dedication for encouraging more people in Britain to cycle. It has recently announced a cash injection of £20 million to support cycling and walking initiatives in England.
Transport Minister, Norman Baker told
businessgreen.com: "
Cycling is great for your health, the economy, and for the environment, so we are determined to make it easier for people to cycle, whether for leisure, getting to the shops, or as part of their commute to work."
He continued: "Following the success of the Olympics, there is a huge appetite for more cycling provision from the travelling public, and we need to capitalise on the enthusiasm at local and national level."
NICE said it was raising awareness of the issue because things such as poor air quality, physical inactivity and vehicle collisions are costing the UK economy around £10 billion a year.
It is believed that more people getting on their bikes will help combat this, prospering in austerity that currently exists in the UK economy at the moment.
The organisation said that businesses looking to improve walking or cycling access into their workplace should speak to the transport department at their local authority.