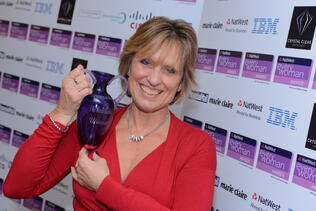 Vistage member Janis Sinton, from Bristol, has been chosen as a finalist in the 2012 NatWest everywoman awards, with her company, TasteTech

The finalists in the NatWest everywoman Awards - the UK's leading programme for championing female entrepreneurship are announced today. These women, who are making their mark in diverse fields ranging from performing arts to live music production and bag design, demonstrate that with self-belief and determination it is possible to achieve your goals, whatever the odds.



Janis Sinton, aged 56, from Bristol has been chosen as a finalist in the Hera category, for women aged 50 or over.

A British food manufacturing success story, TasteTech is a global pioneer in the field of microencapsulation, a process used to protect ingredients and flavourings by using vegetable oil or starch to encapsulate the product until needed. Founded by Roger and Janis Sinton from their garage, the business is now a multi-million pound enterprise, exporting to 32 countries, providing solutions to food manufacturers that improve shelf life, flavour longevity and product function across the bakery, confectionery, chewing gum and sports nutrition sectors.

Janis was propelled into the role of Managing Director following the sudden and untimely death of her husband and business partner. Channelling her grief, Janis surrounded herself with senior managers to plot the company's future, setting ambitious targets and empowering her team to achieve them. TasteTech is on track to double its turnover to £9m, growing sales outside the EU (with particular focus on South America). Janis has invested significantly into R&D creating innovative new product solutions many of which are developed confidentially with clients. Crediting her team and family, Janis also attributes her success to sport. Herself a former athlete and competitive squash player, Janis believes that her competitive nature coupled with sense of fair play have been key to the success of TasteTech.

A decade has passed since this Awards programme launched with the objective of raising the profile of women across the length and breadth of the country who not only contribute £130 billion to the UK economy* but who also create jobs, wealth and prosperity. Household names including Hilary Devey and Jo Malone MBE have been recognised, as well as dozens of extraordinary women from across the UK. By unearthing these women, role models have been created for a new generation of women.

A recent survey from the Global Entrepreneurship Monitor**, found that more people in the UK were thinking of setting up a business in 2011 than in the previous ten years, indicating that programmes such as the NatWest everywoman Awards have had a positive impact on attitudes to enterprise. 49% of those surveyed who were in the early stages of setting up a business were female, up from 44% the previous year.

The winners will be announced at a lunch ceremony at London's Dorchester Hotel on Wednesday 5th December 2012. The ceremony will once again be a high profile occasion attended by successful women in business and with a Ministerial Address by Rt Hon Maria Miller MP, Secretary of State for Culture, Media and Sport & Minister for Women and Equalities.

Entrants for the NatWest everywoman Awards programme are judged by a panel of their successful peers including Sharon Hilditch MBE, founder, Crystal Clear International, Camilla Stephens, Co-founder, Higgidy, and Anna Lee, co-founder of Storm watches.

Karen Gill MBE, co-founder of everywoman says, "We have been fortunate over the past ten years to be introduced to a huge number of inspirational, successful women and this year's finalists again have wowed us with their achievements. Many more women are turning to enterprise during the economic downturn, realising how satisfying and rewarding it can be and I hope that by highlighting our amazing finalists this year more will be encouraged to follow in their footsteps."

Anne McPherson, Managing Director, Diversity in Business at NatWest adds, "At NatWest, we have long recognised the economic benefit that encouraging more women-owned businesses can bring and are committed to helping women achieve their ambitions through our network of accredited Women in Business Specialist Relationship Managers. Our longstanding relationship with everywoman and 10 year sponsorship of the NatWest everywoman awards is a key part of our strategy to provide opportunities for women to raise their profile and grow their businesses. Our partnership with everywoman also allows us to open up personal development opportunities to our staff and our customers in the areas that women tell us are important to them."