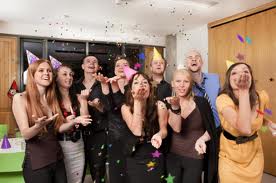 Tomorrow's Budget statement may well see office parties across the land hastily being cancelled but, for those organisations still keen to spread some festive cheer among their colleagues, it is worth bearing a few cautionary pointers in mind. Obviously, it's not rocket science. Everyone wants to have a good time, relax and bond a little over a couple of drinks and something to eat. However, alcohol and the workplace are seldom happy bedfellows.

The three Martini lunches of the Mad Men era have all but drained away and many organisations now have a zero tolerance policy on alcohol in work. Office parties blur that line and that is where the trouble potentially starts. From unwise words being spoken to injuries and even death, the boozy work night out can have dreadful consequences for those in attendance. They can also harm your organisation's reputation. This writer knows of one police station which is banned from their nearest restaurant after a particularly boisterous Christmas lunch.

Concateno, providers of drug and alcohol testing services, offers the following top tips to HR and occupational health professionals on how to manage the risks of binge drinking at the workplace Christmas party:

Avoid having an open bar - an open bar encourages employees to drink the night away.

Provide a consistent amount of food all night - making sure your employees are well fed and not drinking on empty stomachs is vital. This will avoid employees becoming too intoxicated and slow down the pace of drinking.

Ensure there are taxis or buses available for the homeward journey - providing employees with taxis to get home safely helps to minimise the temptation to drink drive.

Have fun, but stay safe - everyone deserves to have fun at their Christmas party. However, often the 'after-party' is where things can get out of control. Although HR managers cannot stop employees from continuing the party, do reiterate the corporate policy of behaviour outside the workplace.