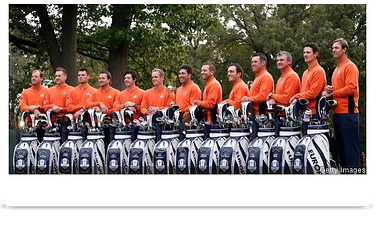 A number of leadership lessons can be learned from last weekend's Ryder Cup event, where Team Europe managed to pull off the 'Miracle at Medinah' to beat Team USA.
That's according to John Ellett, writing for
forbes.com
, who believes there are four lessons that stemmed from Team Europe's win.
He claims that effective partnerships in the team can eventually lead to success - something that Team USA captain Davis Love implemented with aplomb.
"The two-person teams were matched based on personalities and pre-existing trust between the two players. He did not try to forge new bonds during the heat of competition," he wrote.
In addition, mentorship can prove a useful ally for a CEO looking to develop a younger, inexperienced worker. By forging strong senior/junior partnerships, both parties will ultimately be more successful by 'combining seasoned experience with youthful insights' - just like Phil Mickelson and Keegan Bradley of Team USA.
Thirdly, inspiration can appear from many unlikely sources, so managers need to keep morale high at all times. For example, Team Europe's Ian Poulter have a determined and inspired play on Saturday afternoon, which flipped the outcome of his match - a point that Paul Stone of
managementtoday.co.uk
agrees with.
Finally, inspiration doesn't just come from a motivating but from committing to a cause 'bigger than oneself' such as a purpose rather than money - like the late Seve Ballesteros resting in the hearts and minds of Team Europe's players.