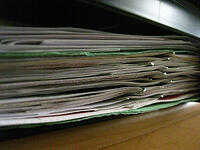 Submitting expenses, chasing payments and making travel arrangements are among the most hated administrative tasks that business owners are faced with, smallbusiness.co.uk reports.
Being the CEO of a family business or head of a small enterprise is not easy. There are constant demands, huge pressures and many unpleasant tasks to undertake. Fortunately, many business owners have a personal assistant to help them out; in fact, a new survey has revealed exactly how much the PAs help.
Conducted by virtual PA outsourcing firm, Time Etc., the poll shows the tasks most frequently delegated to PAs. In the number one spot, 72 per cent of SME owners said that they would pass responsibility for chasing customers for late payments.
Nearly two-thirds said that they would ask their PA to process their expenses and 39 per cent would ask for help when it came to formatting documents. Almost two-fifths said they hated making travel bookings and would consequently delegate this fiddly task to their assistant too.
It would appear that social media is a huge bugbear for many CEOs, managementtoday.co.uk writes. While fully appreciative that a Facebook page or company blog is important for business, many delegated the task of maintaining an online presence to their PA. Around a fifth were asked to write and publish content in their boss's absence.