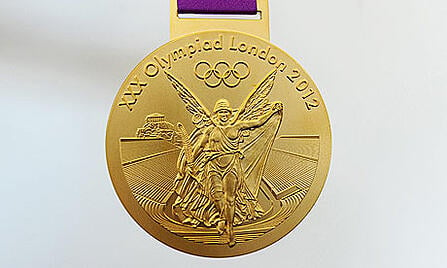 George Orwell reckoned that international sport was 'war without the shooting'. He may have been right about many things but, after an ebullient weekend filled with Brits winning Olympic gold, his sport/war analogy does seem mean-spirited. Of course, for every medallist, there are many more losers but competition encourages improvement and the smart losers learn from their mistakes.

Great athletes and sporting heroes have long been used to inspire business leaders and there is much that 'Fly Mo' Farah; Andy Murray and Jessica Ennis could teach us about perseverance, practice and perfecting technique. It wouldn't be a huge surprise if, in a few years time, some of the current crop of British medal holders started to appear on the Vistage speakers' circuit. However, on the day that the CBI releases their rather bleak, quarterly SME Trends Survey, there is a more immediate benefit to be gained from Team GB's sporting glory: a sorely needed feel good factor.

There are not many bright spots in the CBI survey. Headcount has increased and (this is flagged as good news!) output is expected to be flat rather than falling over the next quarter. That's it, in terms of positive news. I'm not going to detail all the bad news but, if you want, you can read the survey's headline findings here. For further misery, read Jeremy Peat, director of the David Hume Institute, writing today in The Herald about the economic outlook.

Britain's medal triumphs won't make any of the bad news go away. Were a minor miracle to occur and Team GB suddenly leapfrogged China and the US on the medal table, it wouldn't make our GDP grow any faster. However, every time that a Brit steps onto the podium, you can count on an uptick in morale.

Before they started, the Games were predicted to be a disaster by many prominent voices. From infrastructure collapse to ticket mis-selling via security cock-ups, in some quarters, the entire thing was deemed to be doomed before the first starting gun was fired.

In fact, the opposite is true. You don't have to be hanging out the bunting and wearing a Union Jack waistcoat to feel good about Britain's sporting success but I would bet that from Portsmouth to Peterhead your staff and colleagues all had a bit more bounce in their step as they made their way to work this Monday morning.