Achieveing World-Class Financial Management in Your Business

Steve Gilroy CEO of Vistage UK is pleased to invite you to the Vistage Finance Forum 2012. This event will be relevant for those wishing to attend as a follow-up to last year's Finance Forum, covering fresh, new material
in the 3 key areas of the finance function; Strategic, Operational and Business Support. The forum will also be extremely relevant for those wishing to attend for the first time and an introduction to The 12 Box Finance Toolkit.

"In today's economy businesses need to be at the top of their game. When it comes to business finance, there's a brand-new routemap to success – The Vistage Finance Forum. Developed and delivered by some of the UK's
most experienced Finance Directors, the Vistage Finance Forum is a clear and robust model that allows you to benchmark and strengthen your finance function in a way that adds immediate strategic and operational value to the business – beyond the numbers. Whether you're a CEO, Finance Director/Manager or business owner, if you want to move your finance function to a whole new level the Vistage Finance Forum is for you."




The Agenda for the day is as follows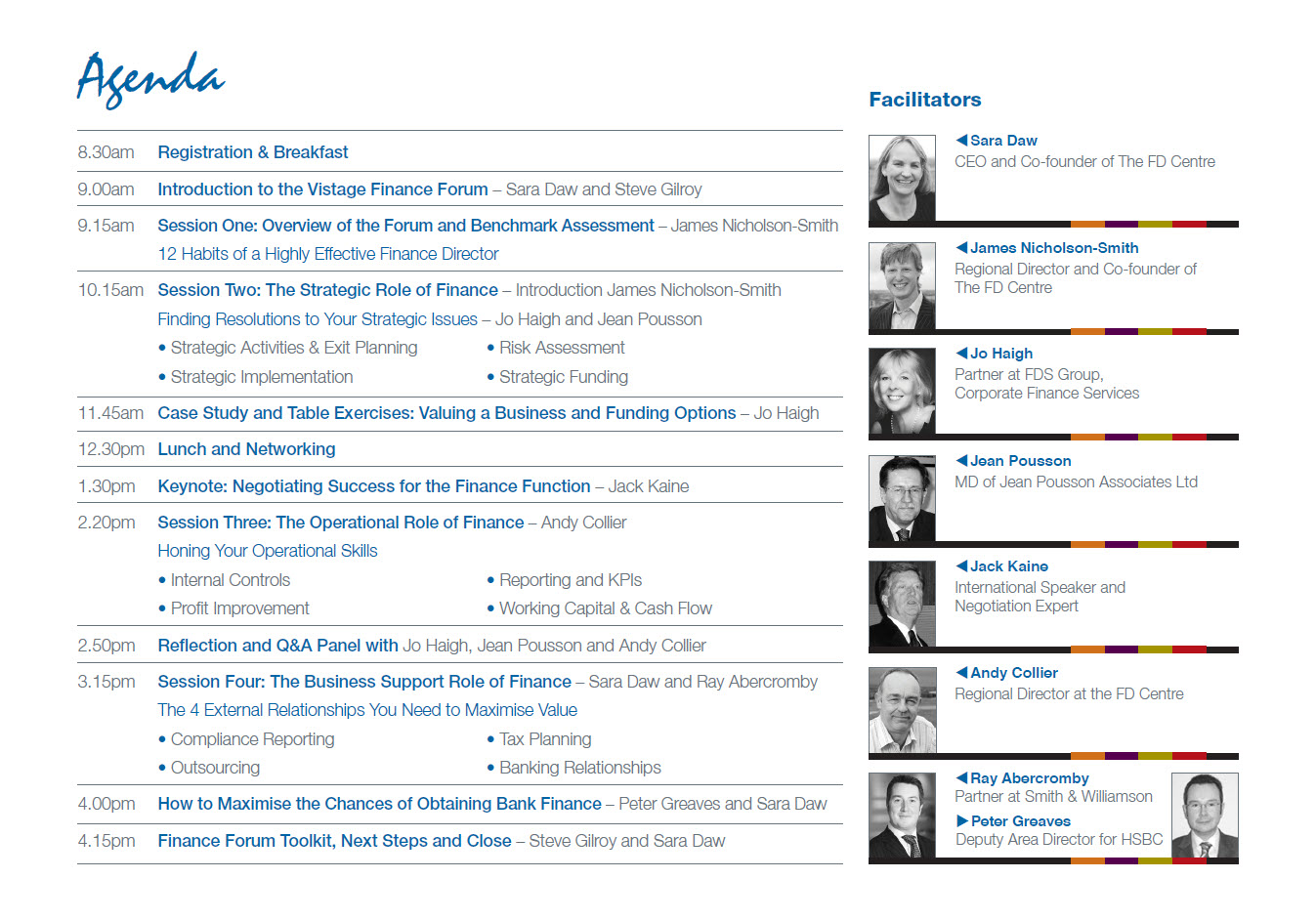 The Vistage Finance Forum takes place at The Belfry ( Wishaw Suite) on Thursday 4th October 2012. The event provides a great opportunity for CEOs and Finance Directors/Managers to learn from a group of world-class Finance Directors who bring a new, business-focused and real-world view of the role of finance within business.

To register your place at this unique event, visit www.vistagefinanceforum.co.uk. For more information plesae call 01962 841188 and ask for Finance Forum Events. The cost for the event are Vistage members and their Finance Managers/Directors £300+VAT, non Vistage members £600 +VAT.

Here's the video from the last Finance Forum