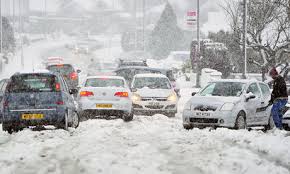 Around 51 million working hours have been lost due to the poor weather conditions over the last fortnight, according to research published by road recovery firm Green Flag.

Reported by hrmagazine.co.uk, the statistics show that more than 8.5 million (18 per cent) of British adults have been unable to work their contracted hours because of the adverse weather,

As a result, employers have been left out of pocket by an estimated £318 million, cites onrec.com. Nearly a fifth of those surveyed admitted they were scared of driving in such conditions and, consequently, they stayed off the roads. An additional 2.3 million people tried to take to the roads but the ice prevented any long journeys.

In an indirect effort to improve work/life balance, many employees decided to work from home, thus helping businesses maintain their output levels while navigating through uncertainty.

Miranda Schunke, spokesperson for Green Flag, commented on the weather: "The extremely high demand for breakdown support highlights the risks faced by motorists who take to the roads in severe and icy conditions, and due to the treacherous travelling conditions across the UK, over 3.8 million people have missed at least a full day of work in the last week alone, while over 590,000 people missed at least two days of work in the last week, according to figures."