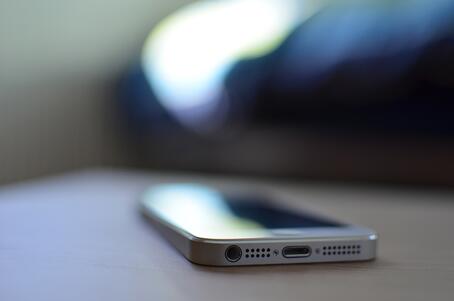 It's no denying that technology has transformed the way that people buy – both for businesses and for consumers.
At the point of need, buyers now search the internet for solutions and information before making a decision on where to buy a product or service. Infact research by Forrester shows that up to 70% of buying decisions are made in this way.
Although some businesses are adapting to this change, a lot are still reluctant to let go of the old ways and are fazed by technology. But, business leaders must wake up to the reality that the traditional sales 'hunter' techniques can no longer apply in this new environment.
If you are wise and pay attention to the new tools that that are available it will enable you to engage with their buyers in the best way and at the right time. But many businesses are still not taking that next step.
In the recent VQ Sales 2.0 report we discussed the how the changing sales landscape has created a need for a different kind of sales person, those with a different set of skills.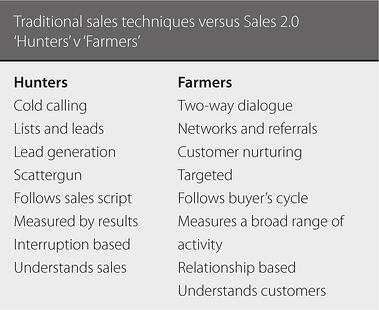 Grant Leboff, CEO of The Sticky Marketing Club, says
"I can't see a role for hunters anymore. It's not about bashing doors down or picking up the phone and making thousands of calls. You make things happen in a very sophisticated way; you make interested people come and visit your website.

- We need farmers who will cultivate and guide prospects as they go through their buying process rather than your selling process."
So, how should I adapt to this new sales environment?
Simple steps like using social media and other online tools will enable your sales teams to gather invaluable, real time information about your buyers' needs, assess the stage they have reached in their decision-making journey and will help your sales teams to respond with value-added insights that will create a bond of trust on top of a truly personalised service.
Thanks to the transparent and open nature of the internet, every business, from SMEs to large corporations, can benefit from the same types of tools for a minimum cost, creating a level playing field.
Forbes magazine recently reported that 78% of salespeople using social media outsell their peers. In addition, research conducted by IBM's Institute of Business Value suggests that 60% of businesses will be using social media and related tools in their sales operations by the end of 2014.
In our Vistage Quarterly Report, we explored the new concept of Sales 2.0 and discussed how business owners could enable their salespeople to use their time more wisely and effectively by sharing some key learnings through case studies.
Karl Hick (Vistage member) and managing director of Larkfleet Homes, which builds high-quality sustainable developments in the Peterborough area says that he believes that it's not a one size fit's all strategy. Hick sees the value of using more online tools to nurture customers, but says these will always run alongside more traditional methods, due to the nature of the market.
"We'll use a combination of both, because we know what we're going to get 60-70% of our response from. But we are always looking for ways to increase that success rate. We use Facebook and Twitter – everything really – but some of these things we have debates about, because from a sales viewpoint we're not able to identify direct sales benefits."
Larkfleet Homes' director of marketing, OK Helen Jones, says that a lot of the marketing activity can be classed as nurturing customers: "People want to see and feel and gain an understanding of what they are buying."
But what what is Sales 2.0?
Sales 2.0 is a sales method that developed in response to the change in buyer behaviour. Technological advancement meant that businesses started to use online tools to help them to cultivate knowledge, nurture relationships and meet their buyers' needs. Ultimately, enabling their sales teams to focus on leads that offered the best prospect of success.
They extracted insights about customer engagement from their company website and social media platforms that created rich interactions between their sales teams and their prospects at the right time and between the right people.
Using real time metrics to monitor buyer behaviour is at the heart of Sales 2.0's philosophy. It's not about making pitches through social media channels or abandoning old sales techniques altogether.
In fact, a salesperson that embraces Sales 2.0 will use networks such as LinkedIn and Twitter to their advantage through all stages of the sales process, moving it forward with email, phone calls and face-to-face meetings, when appropriate – making these traditional methods more effective.
As a Business Leader, what can I do to improve our sales process?
Steve Gilroy, CEO of Vistage, says "Business owners should ensure that their sales teams are aware of, and understand, the fundamental changes in the power balance between the buyer and the seller."
Most importantly it's not just the sales and marketing teams. Employees should know about the vital role they play in gathering insights about buyers and developing a relationship with them.
Haydn Rowe, MD of The Results Corporation, says "Customers who previously might have not been considered to be on the sales funnel must now be nurtured as part of the sales process."
Going forward you must ensure that there is provision to create value-added information that will nurture, educate and inspire your buyers – whitepapers, webinars, sharing research etc. This may mean making some changes. But, that is the nature of adapting to survive.
What easy steps can you take to start using Sales 2.0 today?
More from Vistage: