Employers are taking staff wellbeing more seriously than ever before. A 2017 report by Personnel Today shows that 45% of UK businesses have a clearly defined wellbeing strategy in place, up from 30% in 2016.
Happy, healthy employees who feel that they're being looked after are more likely to perform their roles at a higher level, take less time off sick, are more energised and engaged, and better at motivating their colleagues.
So how can you encourage and develop employee wellbeing within your workplace?
Encouraging activity
Physical inactivity comes at a cost not just to our health, but to the economy: an estimated £20bn per year is lost through sick days. In the workplace, back, neck and muscle pain are the major cause of the 131 million sick days taken in the UK, and over a quarter of UK adults are classed as physically "inactive".
In May 2017, Paralympian Baroness Tanni Grey-Thompson published her ukactive Manifesto for an Active Britain, urging all political parties to get behind it before the General Election on June 8th. This manifesto includes two key points for workplaces:
"Tackle sedentary office culture"

: Grey-Thompson states that sitting at a desk for eight hours a day can increase the risk of premature death by up to 60%. She recommends building office spaces to encourage movement - even just walking to the printer and back - and fitting in space for fitness equipment on site.
"Expand the Cycle to Work scheme":

The government could include gym passes and equipment in this scheme to motivate workers - could employers improve their own offerings too?
In a recent survey, 50% of workers stated that they would be more active at work if they were informed of how it would improve long term health, while 24% stated that there was no space at work to accommodate movement: two relatively easy changes that employers could make for instant success.
Taking a look at working hours
A 2016 study from Sweden showed that working a six-hour day on an eight-hour salary led to 50% less time taken off sick, higher levels of happiness, and more energy - both at work and at home. Paying for an extra two hours per day may seem crazy, but if this leads to a subsequent increase in productivity and reduction in time off, it's a sound investment.
There are other, more palatable options to consider. Flexible working - which all UK employees have the legal right to request - allows workers to request changes to the number of hours worked, required working times or their place of work.
Giving workers the flexibility to care for disabled relatives, drop children off at school, or attend classes outside work can help to reduce turnover, boost morale, attract new employees, reduce absenteeism and increase productivity, say the team at legal resources website Law Donut.
A focus on food
"Healthy food is better for us" may not be a startling revelation, but the impact goes beyond health: good nutrition improves everything from concentration to memory to lethargy. As Harvard Business Review says, what you eat affects your productivity. Good food should be a high priority for business leaders who want to look after their staff.
If you have a staff canteen, ensure there are healthy, filling options available to keep employees from energy slumps during the afternoon. If you offer snacks, consider what you make available: is a vending machine packed with crisps, chocolate and sugary drinks the best option?
Or could you consider ordering in fruit baskets, or healthy snacks from companies such as Office Pantry, to offer free of charge to employees for consistent blood sugar levels throughout the day? The British Heart Foundation offers free advice on how to run healthy eating workshops in the workplace, which can help you to assess how things could be improved.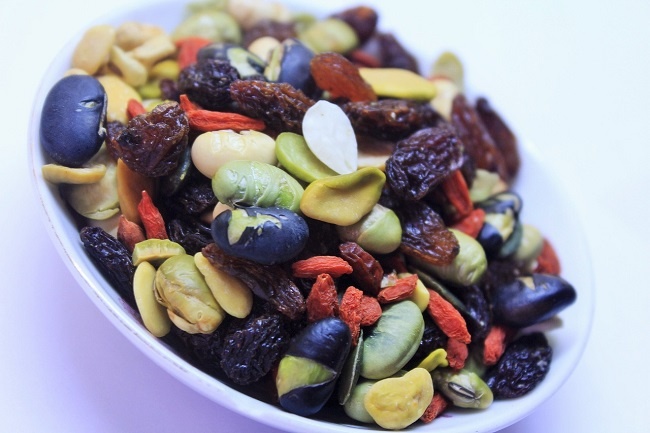 Snack attack: Healthy food helps concentration, motivation and productivity
So much for what to eat - what about how? This question's equally crucial to wellbeing, and it focuses on the office environment. A 2017 white paper from International Quarter London reveals that 38% of workers stay at their desks to eat lunch on four or more days per week. Why's that a problem? They eat too much, make poor food choices, and their decision making stagnates for want of a break.
Encouraging workers to take a proper break for lunch can help. If you can, consider providing a welcoming, comfortable space in which they can eat and socialise outside their immediate team. The change of environment and company enlivens the mind, and sends them back to the desk refreshed and ready to work.
Being mindful of mental health
Workplace mental health has long been taken for granted - "because everyone gets stressed in a high-powered workplace!" - but has gained more attention from charities, the media and the government in recent years.
ACAS claims that "mental health problems cost employers in the UK £30 billion a year through lost production, recruitment and absence" - which is galling when we consider how much employers can do to improve the mental health of their workforce.
Employers can provide offices with outside space, chillout rooms, or even plants (real ones - no depressing rubber) so employees have space to de-stress. Going further, subsidised activities and classes like yoga classes, meditation sessions, and gym memberships all provide a place and time for mindfulness and decompression.
A 2017 survey from the Institute of Directors shows that 54% of employers in the UK have been approached by staff suffering mental ill health - the problem is more widespread than you may think. Mental health charity Mind offers a free resource that shows how promoting wellbeing, tackling the causes of mental ill health, and providing support for staff with mental health problems can make all the difference.
Promoting wellbeing within the workplace can reap significant rewards in terms of productivity, reduced absenteeism and increased motivation. What's more, even the tiniest steps to improving employee wellbeing can be made without a significant financial investment. A simple change - like a few weeks of "no desktop lunches" company-wide - doesn't cost you anything, and allows you to test the water for bigger ideas in future.