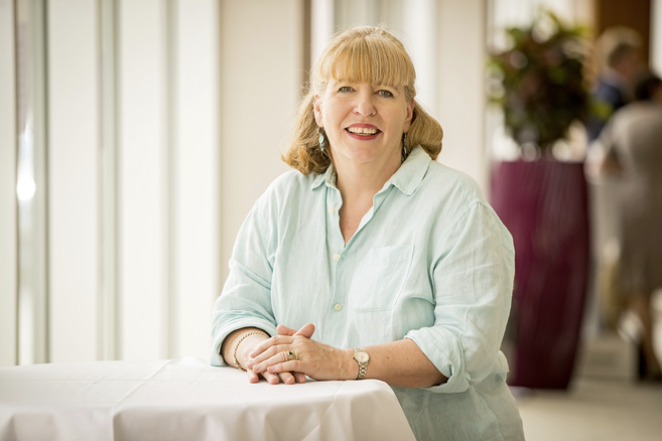 There's no such thing as a stereotypical Vistage Chair. The knowledge and experience that make a good Chair can be gained from almost any career path – but the most important attribute is a desire to help others and expand their business knowledge.
As with many Vistage Chairs, Jan Lloyd has enjoyed a varied career that included roles she didn't envisage when she graduated with a languages degree.
Moving from sales and marketing into a management role in the dairy industry by her early thirties, Jan eventually became managing director of an Anglo-French dairy producer. Wanting to try something different, Jan then moved over to the public sector to manage the regeneration of a 34-acre fruit and veg market in Vauxhall.
As chief executive of the Covent Garden Market Authority Jan got the opportunity to take on a challenge that she admits was "a bit outside my experience previously." Planning applications, public procurements, and negotiations with government bodies generally aren't part of life in the dairy sector, but Jan was ready for a new challenge.
Jan was also aware, however, that it would be difficult to make the shift from a large corporate to a small public-sector body, and wanted to ensure that opportunities for professional development would still be available to her.
In 2006, Jan therefore joined Vistage as a member – encouraged by the chance to attend meetings on an ongoing basis, rather than attending a one-off course at a business school.
"I went along to one of the meetings, and I didn't look back really. It did it for me," said Jan.
From Member to Chair
Jan had been a member of Vistage for ten years when she became a Chair. This move again coincided with a major change in Jan's professional life. In this instance, she had decided to step down from her role as Chief Executive and was looking for a new challenge.
Jan considered following the well-trodden path from the boardroom to becoming patron of a charity, but realised that working with business owners was what she really enjoyed.
"It became obvious in the months afterward that working with people, finding out new things, and seeing people develop and facilitating that development was what floated my boat," says Jan.
It took another 15 months for Jan to go through the necessary training and set up her Vistage group - something anyone interested in becoming a Chair should be aware of. It takes time and effort before someone is ready to begin their own group, but Jan knew that the rewards would make it worthwhile.
"The thing that kept me going was that I couldn't think of anything I'd rather do," said Jan.
What do our members say?

"I hadn't heard of Vistage before being approached by Jan and was sceptical at first. This changed with my first trial group meeting, where I was relieved to meet like-minded CEOs and business owners facing a lot of the same challenges that I was facing as a new CEO of a small business.

Since joining Vistage at the start of this year, it has given me valuable new contacts, inspirational talks with simple takeaways, a structure for raising and solving business issues and a great coach. I look forward to my Vistage days as pure 'Gold Time' in my busy schedule."

– Jonathan Plumtree, CEO, Omnilife
A career that spanned a variety of roles across the private and public sectors meant Jan had extensive experience to share with group members. Betters still, Jan also knew that being a Vistage Chair would provide her with opportunities to continue her own learning.
"At this stage of my career, retirement isn't that far away, and I saw this as being something that would keep me interested and involved, and still developing and growing, in a way that nothing else I could see could give me."
This willingness to keep learning and a desire to help others progress are important attributes for those who choose to become Vistage Chairs, says Jan.
"For me, the people who make a good Chair are generous of spirit and are prepared to put the effort in for the benefit of the people in their group, and it's about the group and not them."
Success Stories
Although Jan's group has been running for less than six months, members have already benefited widely from the experience.
One member was trying to reinvigorate the culture at the family business he had been running for 30 years. By discussing his challenge with peers from other businesses, he realised that he needed to address his role in creating issues in the first instance.
"That's been fundamental in his thinking about how he's going to affect change in his business," says Jan.
Another joined the group as a freshly minted Managing Director, who was rushing into new tasks without enough planning and forethought. He received valuable advice from the group on the importance of having a solid strategy in place before starting new projects.
It's this ability to be able to share challenges or new ideas that Jan believes is one of the key benefits of being a Vistage member.
"It's having that safe space to put ideas out there, where you're at no risk from the people that are hearing it," said Jan. "That doesn't exist anywhere else, because there's always a vested interest in any other group. Whether that's your family, your management team, the board, or your business contacts."
After a long and successful career, Jan is now in the early stages of her life as a Vistage Chair. She acknowledges that completing the training and establishing a vibrant, engaged group requires a lot of effort and dedication, but it's made easier by the ongoing support of her fellow Chairs and the wider Vistage community.
It's this community aspect along with the opportunity to help others grow and achieve their goals that Jan finds so rewarding.
"The thing that makes me happy is when someone says, 'That's really helped, that's made such a difference.' That's terrific. That's what being a Vistage Chair is all about."
Experienced executive or business leader looking for your next challenge? Find out more about being a Vistage Chair here.