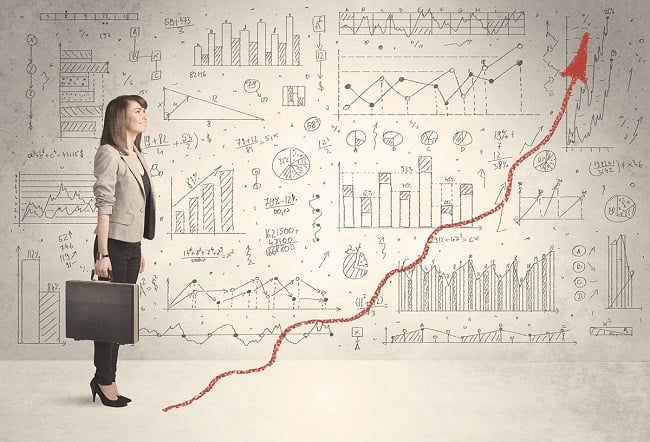 In their 2018 annual review, the ScaleUp Institute endorsed Vistage as an organisation that can help scaleup business leaders achieve and sustain growth. Why? Because Vistage doesn't just help MDs and CEOs grow their companies, it helps them do it at more than double the average rate.
As Irene Graham, CEO of the ScaleUp Institute, says: "Leaders in rapidly scaling companies need to learn to cope quickly with changing demands and may need help to develop their managerial and leadership talent. Peer-group organisations like Vistage play a vital role in helping business leaders establish local connections to those who know what it is like to grow a business, and who can offer relevant support and guidance."
But how do we do it? Here are 10 ways Vistage helps the UK's scaleup business leaders…
1. Question your answers
As Vistage Chair Adam Harris put it, "people join Vistage not to have their questions answered, but to have their answers questioned".
It can be lonely at the top - especially as a business is scaling up. As your business expands, it isn't just about managing accelerated growth or working harder, it requires a shift in leadership strategy - from working in the business to working on it.
This shift can be difficult to achieve without support and insight, which is exactly what Vistage provides. Vistage peer groups give members the opportunity to gain new perspectives or hear difficult truths from peers who have been in the same position.
2. Question your work/life balance
Great leadership doesn't just come down to your bottom line. As a leader, unless you are happy, healthy and balanced, you won't be able to sustain successful growth. That's why Vistage takes a holistic approach to leadership. Our mission sums it up perfectly: 'To help high-integrity leaders make great decisions that benefit their businesses, families and communities.'
Research from the ScaleUp Institute found that 7/10 scaleups believe leadership is vital to successful business growth. So, if you aren't ok, how can your business thrive? At Vistage we believe scaling up has to be about long-term, sustainable growth which has a positive impact for all - including the leader.
3. Help you make better decisions
Making important business decisions is hard. When we're deeply involved and invested, it's often difficult to see things objectively, to be completely honest with ourselves or to look at a problem from a fresh perspective. Vistage's Issue Processing Framework helps our members to do exactly that.
Instead of jumping in and prescribing solutions, the framework is designed to help Vistage groups get to the real cause of a leadership issue by asking searching questions. In this way, Vistage helps leaders understand their own problem and find the most suitable solutions.
4. Our chair network
Vistage Chair, Harry Marsland, describes being a Vistage chair as "the most enjoyable work you'll ever do".
While all Vistage chairs receive training, the real value they bring is their wealth of experience. As business leaders and founders, they have lived and breathed the same scaleup process that many of our members are going through, so they understand the challenges and how to face them.
5. The member network
Our members aren't part of Vistage, they are Vistage. Meeting other business leaders, sharing stories, insights and challenges is what Vistage is all about. Our member network is over 1,600 strong in the UK. You have your local Vistage group, of course. But the regular events, talks and workshops mean you have a ready-made network of high performing business leaders to share ideas with. Not to mention the insight we share from them on our blog.
Our network of leaders is like an extended family - open, active and always there to use as a sounding board. Whatever you want to discuss at monthly meetings will always be treated confidentially. For leaders facing the challenges of scaling up their business, the Vistage network offers constant support, advice and encouragement.
6. The global network
Added to the 1,600 UK members, Vistage comprises over 23,000 members and chairs worldwide, Vistage members benefit from a truly diverse, global perspective on leadership.
Our private online community for MDs, CEOs, executives and business owners, MyVistage enables members to connect between groups meetings, tap into the broader international Vistage community, learn from expert speaker videos and access bespoke best practice materials.
Engage with industry influencers across the worldwide Vistage community and connect with 21,000 members who can help you get answers you need for your business.
7. Regular events
Our exclusive open days and events give our members the opportunity to gain specific knowledge and insight from business peers.
As a scaleup business leader, whether you want to improve your decision-making skills, create an intentional business culture or optimise productivity and performance, our events always provide members with an engaging experience and actionable takeaways.
8. Economic updates
In-depth, up-to-date knowledge of the economic climate and news is vital for business leaders at all stages of their journey, including scaleups.
That's why Vistage speaker and behavioural economist, Roger Martin-Fagg, provides our members with an insightful quarterly update on the current financial situation. Roger's updates highlight factors to be aware of in the coming months and tell our members how they can prepare for any upcoming economic challenges.
9. Leadership insights
At Vistage we have direct access to some of the world's leading business speakers and experts on a wide variety of topics. You'll not only learn from them in a small group setting but you will be able to challenge them, ask direct questions and get their views on how best to implement what you learn. Our network of more than 150 speakers offer dynamic presentations on the topics that matter most to business leaders as well as specific strategies and techniques that executives can apply immediately.
10. Our ethos
The purpose of Vistage is simple: to help leaders be the very best they can be. Scaleup leaders face not only the challenge of accelerated growth, but also the personal challenge of adapting to the new environment - or even admitting they might not be the best person to lead the change.
Our ethos of accountability, courage, passion, collaboration and advocacy means that all our members both give and receive the support needed to make tough decisions and face difficult truths.
As Geoff Lawrence, General Manager, Vistage UK & IRL, said: "Scaling your business is more than just entering an accelerated growth phase, it's an entirely different business environment." At Vistage we understand this. Our platform is designed to offer insight, support and encouragement whenever scaleups need it.