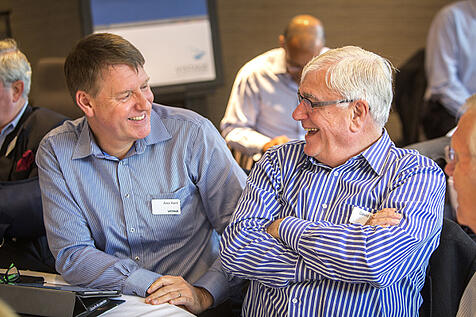 Some 23 years ago a simple request from my wife literally changed my life.
She telephoned me at my office, where I ran my business consultancy and asked me to pick up the Manchester Evening News on the way home, which I duly did.
At that time we read the MEN on a regular basis, approximately once every six months, so Hilary looked through the paper to catch up on some local news.
She said "This looks interesting" and showed me a classified advertisement for 'Chair for Groups of Chief Executives, part time'.
It did interest me so I applied and after two or three interviews a telephone call from the then CEO Ken Satrese told me that I had been successful. Of course, I was excited in my new role, but at the time, I did not know that answering that ad would genuinely change my life and I am forever grateful for the opportunity to become a Vistage (then called TEC) Chair.
Apart from meeting a lot of very nice people both in my groups and at Vistage UK HQ, it introduced me to the power of peer to peer advisory group learning.
In addition, it has helped me to grow as an executive coach. I am forever being challenged to learn and think outside of the box as part of the Vistage community.
I wanted to explain the power of a peer to peer group to you, in my own words:
You gain access to a panel of experts that provide you with unbiased professional advice
It can be difficult to find good advice as a business owner. Even people close to the leader such as a spouse, family members and some professionals cannot truly be relied upon to give agenda free or unbiased advice.
In an executive peer group such as Vistage the members rely on each other for valuable advice derived from the accumulated stock of experience around the table and the tangible desire for mutual support.
And, I've found that the results can be remarkable.
Your peer group gets to the heart of your issue and helps you to discover your best solution
The group will examine all of the options available to achieve the best solution for you (as a member) and you will be held accountable to the group for the next phase of action.
In so many instances the member experiences a palpable sense of relief that a sensible and pragmatic answer is now there for the taking.
Other business leaders hold you accountable whilst you work on your issues and you work on theirs; it feels good

The only reward that the group looks for is a successful implementation of their advice that engenders a warm feeling of achievement.
Your executive coach is focused on your personal development
The Vistage peer group model includes a regular one-to-one with the Chair, this is your perfect opportunity to ventilate any high priority issues that are of concern within your business or personal life.
Each Chair is an executive coach with a wide breadth of knowledge and experience, with all being previous CEOs, MDS and NEDs. The one-to-one is a crucial part of the model where the member can really download issues and opportunities in a safe environment.
But, your Vistage Chair is not a consultant
This may sound a little strange in this context but please recall that the strength of the peer group lies in the interactivity of the whole group in the discussion of your issues.
If the Chair offers a solution during the one-to-one and the members likes it, then there is no point in discussing the matter with the group.
To eliminate that possibility the Chair needs to help the member to determine all the potential options for a solution and then the member can decide which seems to be the best at the time.
It's a subtle difference, but essential. The member can then bring the issue to the group and not surprisingly they will frequently bring up an option which hadn't even been discussed in the one-to-one and which the member finds appropriate.
The key is, of course, the value of the notional 'Table of 12 CEOs' who are always determined to give support. Many members would say that there is nothing as enjoyable as telling someone else how to run their business!
It is all a part of the Vistage peer group model and it has been a fascinating, inspiring and enjoyable 23 years for me as a Chair helping business leaders grow.
It has very wisely been said;
"No-one is as smart as all of us"
More from Vistage:
If you are interested in finding out more about becoming a Vistage member or Chair you can apply now to attend one of our upcoming events and attend as our complimentary guest: