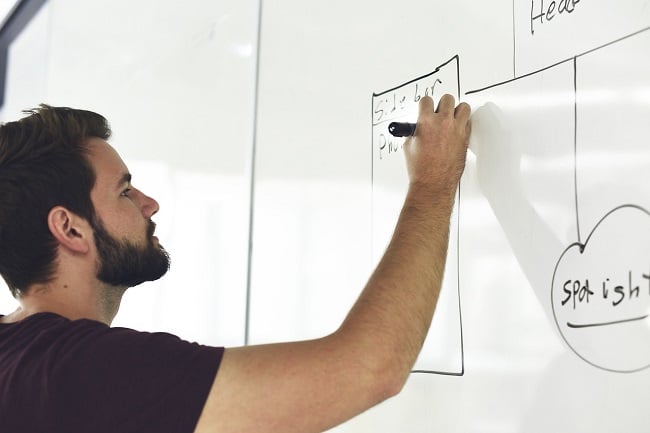 Shifting worker demands and ever-changing employment market conditions make attracting, recruiting and retaining the best people a constantly moving target. In our first SME confidence index, released in June 2017, 47% of Vistage members cited talent management as their biggest concern for the future. And with good reason: according to Deloitte, businesses with effective talent management strategies achieve on average 26% higher revenue per employee.
In September's report - where members also cited talent management as a top challenge - we asked what business leaders have done to improve employee retention. The top three responses were:
Stepped up training (66% respondents)

Added benefits (51%)

Increased wages (49%)
But the index isn't just about the quantitative data, we also delved deeper, asking members what's producing the biggest impact on recruiting, developing, and retaining talent.
Our surveys are always anonymous, but here are a few of the unedited answers from our network of SME business leaders.
Goals and Values.
"We defined a clear and inspirational strategy for current and potential employees to rally behind."
Building strategic clarity and shaping core company values have been focus areas for our members. Defining a set of shared values and goals helps to unify an organisation and drives strategic direction that all employees can get behind. It also allows companies to make better hiring decisions, enables them to hold their people to account, and ensures employees work together more effectively towards a common vision. Building an emotional connection with the vision for employees is crucial to engagement.
Communication.
"We ensure that our strategy is clearly communicated to employees so that they can see their role within the organisation."
Open, honest communication is an essential tool in cultivating a productive environment and is critical to maintaining strong working relationships. Costly mistakes can be made when misunderstanding occurs. Our members are paying particular attention to cultivating a two-way dialogue with employees by listening to their concerns and involving them in key decisions, which in turn helps them to feel ownership of shared goals.
Engagement.
"We are creating an environment where people want to work."
Our members are making engagement a core focus for their businesses - and rightly so. Disengaged employees are like zombies, zapping productivity from the workplace and infecting their colleagues with apathy. Low engagement has a significant impact on talent retention: Globoforce found that engaged employees are 53% less likely to want to leave their job. Additionally, engagement has a sizable impact on the bottom line: happy employees are 12% more productive than the average worker and 22% more productive than the unhappy one.
Culture.
"We strive to show genuine compassion for the entire team, respecting their need for flexibility as well as having interesting work and autonomy over their time."
Having a strong company culture is an important asset for attracting and retaining talent. When people feel like they belong to an organisation, and when they feel valued by their employer, they are more likely to stay loyal in the long term.
15% of our members cited culture as the number one driver of positive change. Many are actively developing their company culture by living their shared values and by embedding the things that matter to their people into the company DNA. This includes giving employees autonomy over their work, allowing flexibility, and cultivating a collaborative environment.
Pay.
"We've focused on ensuring that we are competitive with market salaries."
A study by WillisTowersWatson found that a third of UK workers are looking to leave their current employer within the next two years, with pay concerns cited as the number one motivating factor.
Our members are proactively addressing pay-related issues by introducing living wage policies, researching and matching market rates, and creating fair and transparent grading systems that reward knowledge, skill, and loyalty.
Rewards.
"We provide workplace incentives such as a cycle-to-work scheme, private healthcare, and 5% pension contributions."
Pay is important, but it's essential to consider other rewards too. In a recent study, Aon Hewitt found that rewards and recognition were the number one opportunity for increasing employee engagement. Our members are focusing on building high-quality reward and recognition programmes that are fit for purpose and that complement the business strategy.
Recruitment.
"Working with agencies that really understand our needs has had a big impact on recruitment."
Recruitment costs are typically underestimated by 90-95% and agency fees are just the tip of the iceberg. Consequently, finding the right partner can pay dividends in the long run, which many of our members have recognised. While some are actively cutting their recruitment costs by removing agencies, others see the value in partnering with a firm that understands their requirements.
Other areas of focus within recruitment for our members include improving their onboarding process, recruiting from within the organisation when it makes sense to do so, and recruiting with their company values in mind: as Vistage member Claire Edmunds explained recently, utilising psychometrics ensures new recruits have values in line with those held by the business.
Training and Development.
"We are investing in both technical and self-development staff training."
According to Gallup, 69% of employees rate "professional or career growth and development opportunities" as important to them at work - a figure that rises to 87% for Gen Y. Our members are taking learning seriously by investing in training, introducing personal development planning, and devoting resources to coaching and mentoring schemes:
Leadership.
"We have launched a leadership development programme."
The traits we require from our leaders today are unlikely to be the same as what we will need from our leaders of tomorrow. In order to futureproof our businesses, we must proactively develop a leadership pipeline. Some of our members are taking this into account when planning their training strategy by establishing dedicated leadership development programmes.
Talent Management.
"We're recognising talent within the organisation and making progression plans clear to them."
Ultimately, talent management is central to attracting and retaining the best people. It's a strategy that impacts on many business processes, including recruitment and people development. When managed effectively, it should emerge directly from the company mission and values.
Our members are making talent management a top priority: many have implemented a talent pipeline strategy and some have gone as far as hiring an in-house talent manager. Not only does this serve to increase retention: organisations that take talent management seriously naturally attract talent.

It's clear that our members are taking a multifaceted approach to attracting and retaining talented employees. What are you doing to keep your best talent onboard?